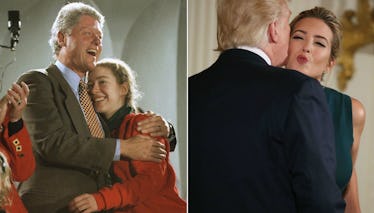 Photos Of Ivanka Trump & Chelsea Clinton Show Completely Different Lives As First Daughter
Wilfredo Lee/AP/REX/Shutterstock / Mark Wilson/Getty Images
If you make a comparison between Chelsea Clinton's time as first daughter of the United States and Ivanka Trump's, you should first acknowledge one thing: There's practically no comparison to be made. Instead, there's only contrast to be made. Nothing proves that more than stacking up photos of Ivanka Trump and Chelsea Clinton side by side.
Pull up any number of pictures of Chelsea Clinton while her father, former President Bill Clinton, was in the White House, and you'll figure out a certain theme. The pictures clearly show Chelsea enjoying her adolescent years as a member of the first family who had nothing to do with politics.
Now do the same with Ivanka Trump and you'll find the complete opposite: An adult who willingly followed her father into politics and actively plays a part in the direction of his leadership.
"If being complicit is wanting to, is wanting to be a force for good and to make a positive impact then I'm complicit," Trump told CBS This Morning in an April interview. "I don't know what it means to be complicit, but you know, I hope time will prove that I have done a good job and much more importantly that my father's administration is the success that I know it will be."
Let's take a moment to look at Chelsea Clinton as first daughter.
Now, let's look at Ivanka Trump in her first year as a White House regular.
Clearly, both women experienced completely different lives as first daughter. Take this snap of Clinton, for instance:
While Ivanka has been working in the White House, Chelsea wasn't even in Washington D.C. during the latter years of the Clinton presidency. She was a student at Stanford, thousands of miles away from the West Wing, in California.
The photo above was taken in 1999, and shows Clinton doing what students do, going to a basketball game — at the time, specifically against UCLA — and cheering for her school.
Chelsea would graduate from Stanford months after Bill and Hillary left the White House in 2001 following the inauguration of former President George W. Bush.
Now take a look at a recent pic of Ivanka:
That's the first daughter, in a completely different scenario than Chelsea's Stanford days. Here, Trump was standing side by side with leading Republicans like Senators Mike Lee (UT), Marco Rubio (FL), and Tim Scott (SC).
Ivanka Trump was with the Senators at their place of work, on Capitol Hill, as they delivered a news conference on the subject of the child tax credit. Rubio said he worked with Trump to lobby for an expanded credit (part of the many changes that came with the GOP tax reform law).
The differences between the two couldn't be clearer. For much of her time as first daughter, Clinton had been studying history at Stanford. Ivanka, in contrast, is playing an active role in political history.
The differences become even more obvious when make the even more accurate comparison, between Ivanka's first year as first daughter and Chelsea's first year as daughter.
Chelsea was 12 years old when her father was inaugurated as president in January 1993. Ivanka was 35. (Yes, the two are very close in age, and, yes, they've shared friendly moments... before the 2016 election.)
Chelsea was the only child while Ivanka has two siblings in Washington D.C.: Barron Trump and Tiffany Trump, who attends Georgetown Law.
Perhaps the only similarities between their respective times as first daughter is the fact that both have had to deal with media news cycle that devoted a lot of focus to controversial stories about their fathers. In Chelsea's case, she had to deal with a time during which former President Clinton was being impeached, which itself drew attention to Bill Clinton's extramarital affairs.
Ivanka Trump, too, is now facing a news cycle that see the specter of impeachment hovering over the White House, specifically because of the progress of the Department of Justice's Russia investigation.
Whether things get as far for President Trump as it did for former President Clinton remains to be seen. If that happens, impeachment would be just about the only similar event between Chelsea Clinton's time as first daughter and Ivanka Trump's.
Disclosure: Chelsea Clinton's husband Marc Mezvinsky joined Social Capital, an investor in Bustle Digital Group, in mid 2017 and joined the Board of Bustle Digital Group in early 2018.