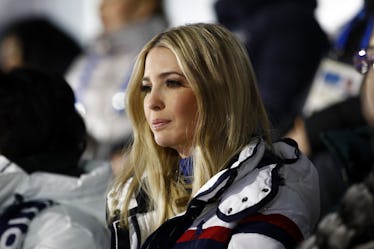 Ivanka Trump Answered A Question About Her Father's Accusers & It Was So Awkward
Pool/Getty Images News/Getty Images
In an interview with NBC's Peter Alexander for the Today show that was aired on Monday, Feb. 26, Ivanka Trump was asked about the many women who have accused her father of a variety of sexual misconduct. The video of Ivanka Trump discussing her father's accusers circulated on Monday morning as people across the internet wanted to see her response to the allegations. Sure enough, the first daughter stuck by her father's side in support — and threw in some jabs at Alexander for asking the question in the first place.
"Do you believe your father's accusers?" Alexander asked.
"I think it's a pretty inappropriate question to ask a daughter if she believes the accusers of her father when he's affirmatively stated that there's no truth to it," Trump responded. "I don't think that's a question you would ask many other daughters."
In fairness, it's probably not a question Alexander would ask many other daughters, but that's probably because many other daughters are not the daughter of a president who's been accused of sexual misconduct by over a dozen women — and many other daughters are also not official advisers to that same president.
The White House's official stance is that the women who have accused Donald Trump of sexual misconduct are lying. Donald Trump himself has repeatedly denied these allegations, which has included him indicating that the accusers are "too unattractive" for him to have assaulted.
You can see the video of Ivanka Trump's response here:
Ivanka's scolding of Alexander doing his job was not her only response to the question. Ultimately, although she took issue with the question, she did fully answer it.
"I believe my father; I know my father," Ivanka Trump said. "So, I think I have that right as a daughter to believe my father."
At least 16 women have accused Donald Trump of a variety of sexual misconduct, ranging from groping, to unwanted kissing, to walking through the Miss Universe changing room. One accuser, Summer Zervos, who was a contestant on the fifth season of The Apprentice, has sued Donald Trump on claims of defamation since he denied her allegations against him. Trump said of her accusations, "To be clear, I never met her at a hotel or greeted her inappropriately a decade ago. That is not who I am as a person, and it is not how I've conducted my life." That lawsuit is currently pending.
Another accuser, Rachel Crooks, is now running for office herself, a decision that was partially prompted by her experience making her accusations known. Donald Trump denied her allegations in tweets last week, writing, "A woman I don't know and, to the best of my knowledge, never met, is on the FRONT PAGE of the Fake News Washington Post saying I kissed her (for two minutes yet) in the lobby of Trump Tower 12 years ago. Never happened! Who would do this in a public space with live security [...] cameras running. Another False Accusation."
Many people have taken issue with Ivanka Trump's response to Alexander's question on Monday, Feb. 26. These critics are largely not taking issue with her believing her father but, rather, with her criticizing the question in the first place. As many wrote on Twitter, she is a White House adviser, and as such, she should be prepared for questions about the White House and its inhabitant's alleged conduct.
Noted feminists and authors Jessica Valenti and Jill Filipovic weighed in, with Valenti saying Ivanka Trump is "deliberately infantilizing herself here for sympathy," and Filipovic saying that, "if you don't want to answer questions about the president, you probably should not work in his administration." Other responses to the interview followed that logic.
Ivanka Trump's response also prompted many to think about Chelsea Clinton, whose father was a president accused of sexual misconduct while in office.
However, as many pointed out, it's a bit of a false equivalency question since Chelsea Clinton was a teenager who did not work for her father's administration when those accusations arose. (Bill Clinton was famously impeached for lying about an affair with then-intern Monica Lewinsky. Bill Clinton also denied an allegation of rape by Juanita Broaddrick through a lawyer in 1999.) That difference did not stop Donald Trump from holding a press conference with Bill Clinton's accusers right before a presidential debate against Hillary Clinton in 2016, a move which many felt was a means to distract the public from his own allegations, which had sprung up that week with the release of the infamous Access Hollywood tape, in which he discussed behavior that amounts to sexual assault. (Trump apologized for his language in the tape in 2016, saying that "these words don't reflect who I am.")
To be fair, there is no way for Ivanka Trump to answer a question about the manifold accusers of her father that would not be controversial. But choosing to criticize being asked the question in the first place was a strategic maneuver — and not one that many people appreciated.