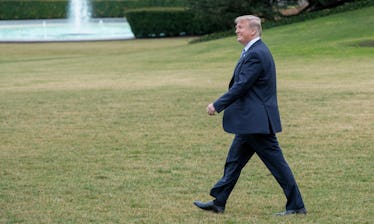 Trump Tweeted A Denial Of A Sexual Misconduct Accuser & It's As Bad As You Think
Tasos Katopodis/Getty Images News/Getty Images
On Tuesday, Feb. 20, the president denied allegations that he'd forcibly kissed a woman who worked at Trump Tower in 2006 reported by The Washington Post. Donald Trump's tweets about Rachel Crooks make extraordinary claims about the newspaper and the accuser. The latest details of Rachel Crook's account was reported by The Washington Post on Monday.
"A woman I don't know and, to the best of my knowledge, never met, is on the FRONT PAGE of the Fake News Washington Post saying I kissed her (for two minutes yet) in the lobby of Trump Tower 12 years ago," wrote Trump is his two tweets on the subject. "Never happened! Who would do this in a public space with live security......"
He continued, calling Crooks' account "Another False Accusation." Elite Daily reached out to the White House for comment but did not receive a response at the time of publication. The White House has previously said that all the women who made accusations against Trump were lying.
According to Crooks, she attempted to introduce herself to Trump at Trump Tower while working there when she was 22. She told The Washington Post that was she was working as a secretary at Bayrock, an investment firm, in Trump Tower when she claims she encountered him. He allegedly grabbed her hand and wouldn't let go, pulling her into a kiss that Crooks claims lasted a couple of minutes.
"He started kissing me on one cheek, then the other cheek," Crooks claimed to The Post. "He was talking to me in between kisses, asking where I was from, or if I wanted to be a model. He wouldn't let go of my hand, and then he went right in and started kissing me on the lips."
Trump on Tuesday cited the cameras in the lobby and the fact that it was a public space as reasons why he wouldn't have done what Crooks claimed.
As Bloomberg View Executive Editor Tim O'Brien points out on Twitter, Crooks told The Post that the conduct took place outside Bayrock's offices by the elevators, not in the well-traveled lobby as Trump claims in his tweets.
Crooks is one of 19 women who have accused Trump of sexual misconduct.
"It all happened at Trump Tower," Crooks claimed, per The Post. "I had just moved to New York, and I was working as a secretary for another company in the building. That's where he forced himself on me."
Crooks' account was first detailed in The New York Times in October 2016. The Times reported that she was working as a receptionist at a real estate firm based in Trump Tower back in 2006, when the kiss allegedly took place.
Crooks joined a legion of women — 19 so far — who have spoken out with similar accusations about the sitting president; some have taken legal action against him. In large part prompted by her experience coming forward with allegations, on Feb. 5, Crooks announced she was running for office.
This isn't the first time Trump has publicly denied any involvement with these women.
Responding to questions from reporters regarding the October 2016 story detailing Crooks' account, Trump denied it. "None of this ever took place," he told Times reporters in a phone interview.
Repeatedly, Trump has denied any of the actions alleged, claiming that the women made up their accounts. In fact, Trump's denial of one woman's allegation resulted in a lawsuit, which is ongoing. When former Apprentice contestant Summer Zervos came forward alleging misconduct, Trump called her a liar. Zervos subsequently sued for defamation.
Since before the 2016 presidential election, the Trump team has been doing damage control around the allegations. The White House has given blanket denials for the women's accusations, and in every one of the 19 cases of accusations, either Trump or his spokespeople have responded by downplaying the events, calling them false, or failing to respond entirely.
And the cries of falsity have continued. In December 2017, Trump again took to Twitter to try to clear his name in the public eye, calling the women's stories "fabricated" and labeling them as "fake news." The president's Tuesday tweets represent the latest in what has become a years-long denial.