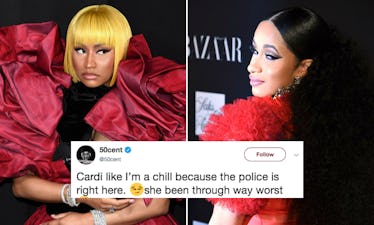 These 5 Celebrities Reacted To The Nicki Minaj & Cardi B Feud On Social Media
Nicholas Hunt/Getty Images Entertainment/Getty Images & Dimitrios Kambouris/Getty Images Entertainment/Getty Images
Celebrity relationships and friendships are a rare breed. These famous faces have their lives played out in front of the masses, whether it's the good, the bad, or the straight-up shady. In Elite Daily's new series, It's Complicated, we're highlighting the biggest celebrity "feuds" that took over Hollywood and dominated our Sunday brunches for weeks on end. We'll take a deep dive into the lives and social media feeds of our favorite stars and dissect what happened in front of the camera, what went down behind the scenes, and everything you might have missed in between.
Few things are as polarizing as the Nicki Minaj and Cardi B feud. Long before the women started to publicly beef, I was nervous. Undeniably, they have some things in common. They're incredibly talented. They're female rappers in a male dominant space. They're badass, opinionated, funny, and make songs I love. In a perfect world, there wouldn't be any competition or drama between them, but this is not a perfect world. In this world, Cardi B threw her shoe at Nicki Minaj. There are celebrities that have reacted to the Nicki Minaj and Cardi B feud, but most aren't taking sides. Elite Daily originally reached out to both Minaj and Cardi B's teams for comment on their feud but did not hear back by the time of publication.
To make the longest of stories short, Cardi B and Minaj have had tension brewing for well over a year. Diss lyrics, shady comments in interviews, and social media posts have all led to a general passive-aggressive tension between the two icons. It all came to a head on Friday, Sept. 7, at the Harper's Bazaar Icons New York Fashion Week party, when the women reportedly had a physical altercation. According to eyewitnesses and footage obtained by TMZ, Cardi B appears to have hurled herself towards Minaj and, at one point, even threw her shoe. Elite Daily reached out to Minaj and Cardi's teams at the time, but did not hear back by the time of publication.
Later, Cardi B posted a long message on Instagram where it seemed she accused Minaj of saying something about her daughter, Kulture, whom she recently had with her husband, Offset. In the message, Cardi wrote:
I've let a lot of sh*t slide! I let you sneak diss me, I let you lie on me, I let you attempt to stop my bags, f*ck up the way I eat!... But when you mention my child, you choose to like comments about me as a mother, make comments about my abilities to take care of my daughter, is when all bets are f*ckin off.
Elite Daily reached out to Minaj's team regarding Cardi's post, but did not hear back by the time of publication.
On Sept. 10, Minaj said she was "mortified" by it all on her Queen radio show.
"How we, and I'm going to use WE loosely, made ourselves look was mortifying," she said. "I ... would never talk about anyone's child or parenting. I don't care about anyone's parenting. I am not a clown, that's clown sh*t." Elite Daily reached out to Cardi B's reps regarding Minaj's radio commentary on the fight, but did not hear back by the time of publication.
OK! So that's where we are.
While you and I might be forming our own feelings at home, other folks in the industry are weighing in, too. Here are a few celebs who have added their two cents, or should I say... 50 cents?
Ugh, anyway...
50 Cent
50 Cent jumped on Twitter to comment on photos of the women leaving the NYFW party where the fight reportedly broke out. He jokingly wrote about what he thought must be going through the women's minds after the reported altercation.
50 Cent shared one picture of Cardi B walking calm and collected next to police officers, despite having lost a shoe. He wrote: "Cardi like I'm a chill because the police is right here. she been through way worst get the strap #lecheminduroi."
He also shared a picture of Minaj posing outside on some scaffolding, commenting: "Nicki on some sexy sh*t after sh*t popped off. what the f**k is really going on. get the strap #lecheminduroi."
No, this isn't really the same thing as taking a side, but it is entertaining nonetheless.
Kelly Rowland
Speaking of not taking sides... Kelly Rowland is the self-proclaimed "Switzerland" of this argument. Rowland, who admitted to being at the NYFW event when the fight occurred, told E! News, "I think in a time where Serena Williams is fighting for equality — I love both Nicki Minaj and Cardi B and I think that they are extremely talented — and in a time when she is fighting for women's equality, we just can't be fighting."
She added, "There's no time for us as women to fight and they are just so talented and I just genuinely love them both so much, but it's just not the time. We have way bigger issues as women, you know what I mean? So I don't know. I'm Switzerland, I don't f**king know."
Christina Aguilera
X-Tina is currently promoting her Liberation tour and stopped by Jimmy Kimmel Live! to talk about all the details. During their interview, Kimmel brought up the Cardi B and Minaj fight, which apparently went down while Aguilera was performing at the NYFW party. He asked her, "Did you see the fight from where you were?"
"I wish!!!" she exclaimed. "[I wish] would have seen this juiciness go down!"
Aguilera went on to describe what was happening from her perspective.
When I got offstage, it took a while for me to actually find out. We got off stage and I didn't feel like there was any drama. We went to a hotel room where I could change and de-stress. Next thing I know, I hear shoes were flying. I don't even know! But my hairdresser was like, 'I think you're going to be interested in something that happened while you were onstage.'
Originally, Aguilera thought the fight went down during her song, "Fighter."
"I was like, 'Oh, my God! That's genius!'" she said. "My music makes people feel... It's invoking passion!" Aguilera also performs a Migos rendition of her hit song "Genie in Bottle" which thought might have made Cardi B "excited."
Tiffany Haddish
What's a good celebrity feud without Tiffany Haddish weighing in? (Surely, you guys remember when she basically held the key to the universe with the identity of the woman who reportedly bit Beyoncé, don't you?)
Apparently, that was enough drama to last her for a while. This go-around, Haddish is staying out of it. She was also at the party when the fight went down, and moments later told E! News, "I don't know nothing about nothing... I had nothing to do with nothing. I have nothing to say, I ain't spill no tea!"
She added, "Tiffany have nothing to do with this! I hope nobody got bit, though."
Azealia Banks
One person who did take a clear side is fellow rapper, Azealia Banks. The night of the fight, Banks jumped onto Instagram Live, where she blasted Cardi B for her behavior. According to US Weekly, Banks said, "She doesn't understand the rules of black female etiquette... She doesn't understand that black women in 2018, we fight with our words and not with our hands." Elite Daily reached out to Banks' team for clarification on her statement, but have not heard back.
This is intense, you guys. I'm with Kelly Rowland and would like to say I am also Switzerland, who loves both of these women and just wants everyone to be happy, healthy, and hug...?
That's fine, right?