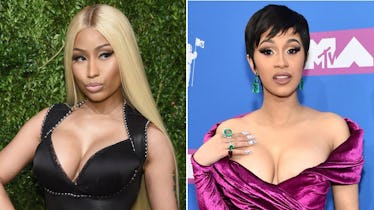 Nicki Minaj Just Accused Cardi B Of Lying About The Reason For Their Altercation
Dimitrios Kambouris/Getty Images Entertainment/Getty Images | Mike Coppola/Getty Images Entertainment/Getty Images
The feud between Nicki Minaj and Cardi B continues to heat up. If you think their altercation at the Harper's Bazaar New York Fashion Week party was the pinnacle of it all, then you thought wrong. Minaj took to Queen Radio on Monday, Sept. 10, to speak candidly about her issues with Cardi. And what she had to say was not pleasant. Nicki Minaj's comments about her altercation with Cardi B are definitely adding more fuel to the fire. And fans are getting riled up.
Minaj started her discussion by explaining how humiliating it felt to be involved in such a messy situation during a NYFW event.
"The way [these upper echelon people] passed by looking at this disgusting commotion, I was mortified," Minaj explained. "How we, and I'm going to use WE loosely, made ourselves look was mortifying."
She then went on to address what Cardi cited as the reason for their ever-intensifying feud: Minaj's reported comments about Cardi's daughter Kulture.
"I would never talk about anyone's child or parenting. I don't care about anyone's parenting," Minaj said of Cardi's accusations. "I am not a clown, that's clown sh*t."
So, not only is Minaj speaking out about the incident, but she's also insinuating that Cardi lied when she explained the situation to fans. Elite Daily reached out to Cardi B's reps for comment on Minaj's accusation, but has not heard back at the time of publication.
For reference, here's what Cardi B's explanation of the situation looked like:
Cardi's explanation aside, though, Minaj had even more to say about what happened that night, especially in regard to the footage that surfaced not long after.
"You knew that when that footage came out you would look dumb," Minaj said in reference to the discrepancies of their individual accounts of the situation. "I didn't even feel the need to defend myself that night ... She has built her career off of sympathy and payola."
Yikes. Those are some pretty tough words and strong accusations. But Minaj wasn't finished just yet. She had way more to say about how she's treated in the industry and what she truly thinks of Cardi.
"So very often I let a lot people do a lot of bullsh*t talking about me, and the world believes it," Minaj said. "But people don't know what kind of disgusting pig this person is!"
And she didn't stop there. She took the opportunity to address Cardi one more time with the suggestion that the new mom may be grappling with postpartum depression.
"The lord gave you a blessing with a bundle of joy and the only thing on your mind was to attack people and to stop their bags," Nicki said. "Who are you angry at, sweetheart?"
And there you have it. That's Minaj's side of the story. Cardi has not yet responded to Minaj's comments, but I'm sure there'll be more back-and-forth between these ladies. Something tells me that this feud isn't quite over yet. With any luck, there won't be any more in-person altercations in their future.