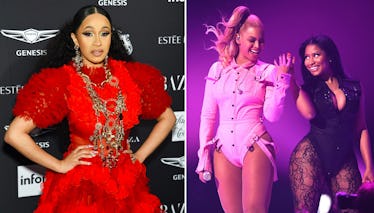 Fans Think Beyoncé Just Picked A Side In The Cardi B & Nicki Minaj Feud
Jamie McCarthy/Getty Images Entertainment/Getty Images; Dimitrios Kambouris/Getty Images Entertainment/Getty Images
In case you've been busy following all the Bachelor in Paradise drama or whatever and somehow managed to miss the epic fight between Cardi B and Nicki Minaj, lemme get you up to speed real quick. The pair got into a serious altercation during New York Fashion Week, that reportedly involved Cardi throwing her shoe at the "Barbie Dreams" singer. And, like, WHY ISN'T THERE BETTER VIDEO FOOTAGE OF THAT?! Fans on Twitter now think some celebs are aligning themselves with one star or the other, and I gotta admit — the tweets about Beyonce picking a side (oh hai, Nicki!) are pretty freaking convincing, though not super-surprising, since Bey and Minaj are known to be tight.
But let's back up for a sec. Because before Twitter got Beyoncé all involved, the singer's former Destiny's Child bandmate, Kelly Rowland — who was THERE, BTW, when the whole shoe thing went down — went all Switzerland on the feud and refused to take sides.
"In a time where Serena Williams is fighting for equality, we just can't be fighting," she told E!. "This is no time for us as women to fight. They are just so talented and I just genuinely love them both so much. But it's just not the time. It's not the time. We have way bigger issues as women."
Amen, sis!
Annnnnd now, back to Beyoncé. Because Beyoncé is the Queen, and at first, it looked like she may have been siding with Cardi when the rapper went and posted a video on her Instagram feed on Aug. 11 that showed the crowds at Bey and Jay's concert singing "Bodak Yellow." Shocking, I know, given her friendship with Minaj. But, see,
Watch:
"On the run 2 tour!!!" the new mama wrote in the caption. "REAL LIFE, REAL LOVE."
Turns out, though, that it was DJ Khaled who played the jam for the crowd. So let's move on. Because what happened next was this: Bey shared a bunch of pics to her website on September 12, including one of Nicki Minaj's mug shot, which she and Jay-Z also used as a backdrop during their performance (while Jay performs "99 Problems" he shows a series of celebrity mugshots behind him).
Here's a pic of the image, which Minaj posted to her Instagram three months ago, along with the caption: "When Jay asks for your mug shot for his tour backdrop."
So yeah, Jay apparently asked Nicki for her mugshot a while ago, and has been using it on the tour ever since. But — BUT! — Beyoncé posted the image on her website on Sept. 12 — a.k.a. the day after Cardi's video post — so now fans think The Carters have officially chosen a side.
So there you have it! And also, way harsh, Nathi!
Could this whole thing be a coincidence? Maybe. But this is Mrs. Beyoncé Knowles Carter we are talking about here. NOTHING this goddess does is ever a coincidence, so it looks like the Queen has officially spoken.