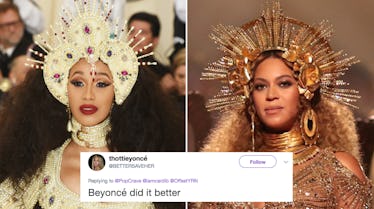 Beyoncé Fans Are Trolling Cardi B For "Copying" Her Pregnancy Announcement Photo
Jamie McCarthy & Christopher Polk/Getty Images Entertainment/Getty Images
Everybody hang on, Cardi B just had her baby! Kulture Kiari Cephus (!!!) made her debut on Tuesday, July 10, 2018, and fans are freaking out. Particularly, Beyoncé's fans. Cardi B announced the good news by sharing a photo on Instagram that is extremely similar to Beyoncé's twin-pregnancy announcement back in the day. The tweets about Beyoncé and Cardi B's baby announcements show that fans think the two announcements have a lot more in common than just a pregnant celebrity, and I don't know how to feel. They're both beautiful, polarizing, memorable photos. But yes, they are also way similar.
If you guys recall, Beyoncé shocked the world when she posted her pregnancy pic revealing she and husband JAY-Z were having twins. The photo was... really something. In her image, Beyoncé is portrayed a little Virgin Mary-ish, kneeling in a garden of flowers with a sheer veil covering her curly hair. She looks stoic, serene, stunning... all the complimentary "s" adjectives, and then some. No one had ever seen a pregnancy picture like this before and it has since become iconic. (I know one girl who printed out the picture and made a Beyoncé-baby shrine on her work desk. True story.)
So, you can imagine why some people have feelings over Cardi B's very similar announcement picture. In her photo, Cardi B is also kneeling in a garden of flowers, also looking very serene, stoic, etc. etc., and also rocking some curly hair. The only thing that's missing is a veil. (Well, Cardi B is also full-on nude while Beyoncé had on underwear and a maroon colored bra. But those are just technicalities.)
Fans were quick to pick up the similarities and cry "copycat!"
Check out some of the Twitter reactions from fans:
Let's be real, Cardi B had to have seen some of this coming when she went with the garden theme! But, if there's one thing I know about her, it's that she doesn't care what you, the Beyhive, or anyone else thinks.
Throughout her pregnancy, the "Bodack Yellow" rapper was candid about people who questioned her decision to become a mother. She said some around her were worried about how it would affect her growing career, but the whole time she remained confident.
Just look at this tweet:
After she first announced her pregnancy, Cardi B popped by iHeartMedia's Power 105.1 The Breakfast Club show to talk over how haters were reacting. She told Charlamagne Tha God,
It just really bothers me and it disgusts me, because I see a lot of women online like, 'Oh, I feel sorry for you. Oh, your life is over.' It's like, why can't I have both? Why do I have to choose between a career and a baby? I want both.
Cardi B also said she was excited to have children young and feels more than ready to become a mother. She said, "I'm a grown woman, I'm 25 years old, I'm a schmillionaire. ...I'm prepared for this."
Can't argue with that.
While there are certainly people who are upset over her Beyoncé knockoff photo, there are hundreds more who are so happy to help her and Offset welcome Kulture into the world. Sure, a few people haven't figured out it's Kulture with a "k" yet, but they'll catch on soon enough.
Congratulations, Cardi B and Offset! Welcome, Kulture! It will be a very wild ride for you, but you have one badass mom to help you through it. Good luck.
Check out the entire Gen Why series and other videos on Facebook and the Bustle app across Apple TV, Roku, and Amazon Fire TV.