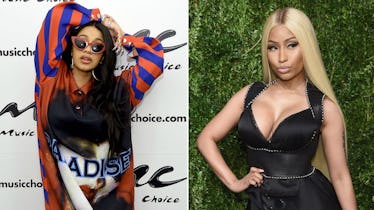 This Drama Could Be The Reason For Cardi B & Nicki Minaj's Reported NYFW Fight
JAMIE MCCARTHY/DIMITRIOS KAMBOURIS/GETTY IMAGES ENTERTAINMENT/GETTY IMAGES
The drama between Nicki Minaj and Cardi B might've just reached a tipping point. The two reportedly got into a physical altercation at a New York Fashion Week (NYFW) party on Friday, Sept. 7 and it's just... bad. According to multiple reports, shoes were thrown, fists were swung, profanity was hurled around, and one rapper was even escorted out of the event. So of course, in the wake of the fight, literally everyone has been asking: why did Cardi B and Nicki Minaj fight at NYFW? There's really no short answer, TBH, because this drama seems to have been brewing for quite some time now. Elite Daily reached out to both Minaj's and Cardi B's representation for comment on the reported fight but did not hear back at the time of publication.
The reported fight at NYFW reportedly kicked off after Cardi confronted the Queen rapper during a party hosted by Harper's Bazaar. According to TMZ, Minaj was sitting at a table with some friends when Cardi "aggressively" approached her. Sources at the event claimed to the outlet that Cardi told Minaj, "Let me tell you something," as she lunged at her, but security reportedly intervened before any contact was made. Cardi reportedly wasn't done though: reports say she unbuckled one of her platform heels and threw it at Minaj. Thankfully, the shoe missed Minaj. But unfortunately for Cardi, she was escorted out of the party. She also appeared to have a large knot on her forehead. Elite Daily reached out to Cardi B's team for further comment about the apparent mark on her forehead but did not hear back at the time of publication.
While the "Super Bass" rapper has yet to comment on the reported brawl, Cardi took to Instagram later in the evening to share a statement on what happened. According to her, it started over comments that were made about her newborn daughter, Kulture Kiari Cephus. Although she didn't call out Minaj by name, Cardi appeared to seriously imply that her message was aimed at the Young Money artist. Elite Daily reached out to Cardi's team for comment on who the post was about, but did not hear back by the time of publication. The message read in part:
I've let a lot of sh*t slide! I let you sneak diss me, I let you lie on me ... But when you mention my child, you choose to like comments about me as a mother, make comments about my abilities to take care of my daughter is when all bets are f*ckin off!!"
Cardi continued, "I've worked hard and come too far to let anybody f*ck with my success!!!! B*tches talk about all that sh*t in they raps but in real life are p*ssy!!"
Yikes, ladies. I personally feel like kids are always off limits in feuds like this. But at the same time, you definitely don't ever want to resort to violence — especially not at Fashion Week, for Pete's sake!
But these two have been at it for a while, so it might not exactly be a surprise that things reportedly went as far as a physical fight. Things supposedly first became heated over Migos' 2017 song, "Motorsport," which both Cardi and Minaj collaborated on. Minaj told Beats 1 radio's Zane Lowe back in April 2018 that she was unhappy with the "I Like It" rapper's reaction to the song. But they appeared the squash the beef just a month later at the Met Gala, which Cardi chalked up to as just a big "misunderstanding."
However, the moment was short-lived. During an August interview with Beats 1 host Ebro Darden on Minaj's Queen Radio, Minaj was grilled about her relationship with Cardi and her reply seemingly reignited their drama. She explained:
Now, I didn't know Cardi and I had an issue, but I guess we do since you're saying it and other people are saying it. To me, she may have taken an issue with things that I've said, but I'm not going to bite my tongue […] You gotta have thick skin. People talk shit about me all the time […] You can't be expect to be liked and loved and praised all the f*ckin' time. Give me a break.
She didn't get specific with "things" she said about the Invasion of Privacy artist, but according to Cardi, it looks like it could've been something about her daughter, which obviously didn't go over too well this time.
But please, be nice you two. Your fans (self-included) really hate to see things go down like this.