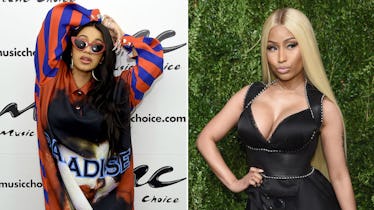 Cardi B & Nicki Minaj Had "Issues" To Talk About At The Met Gala, So That's Awkward
Jamie McCarthy/Dimitrios Kambouris/Getty Images Entertainment/Getty Images
Is it just me, or are Hollywood celebs who are fighting with other A-listers really starting to have a change of heart? (Looking at you, olive branch-extending Katy Perry.) Whatever's in the water, I'm absolutely loving it, because things are just better when there's no tension between some of my favorite people in the media. And now, it looks like the Met Gala has reformed two more people who have been known to have some serious beef with each other, and for that I am eternally thankful. Yep, we've finally learned that Cardi B and Nicki Minaj's "issues" at the Met Gala have been totally settled, so now we can all breathe a sigh of relief.
In case you weren't aware that the two rappers had any beef to start with, spoiler alert: They did. Things supposedly became heated between the two after Migos released his song, "Motorsport," which featured both Cardi B and Nicki Minaj. After the song was dropped, it's said that Minaj was disappointed by Cardi's reaction to the song.
Minaj's reaction was sparked by Cardi's interview with UK's Capital Xtra where Cardi said, "When I heard the track, her verse wasn't finished — well, it's not the verse that is out right now — and Quavo told me to get on the song and I just felt like it was a perfect opportunity for me to be on a track that's big like that."
Minaj spoke with Beats 1 radio's Zane Lowe on April 12 to explain that her feelings were hurt after hearing what Cardi had to say about her. She said,
The only thing with Cardi that really really hurt my feelings was the first interview she did after 'Motorsport' came out. I remember when I first came in the game, if a female of that stature had done a feature with me on it, I would only be singing their praises and saying thank you. The first interview she did after "Motorsport" came out, it just really hurt me. She looked so aggravated and angry and the only thing she said was, 'Oh, I didn't hear that. I didn't hear that verse.' I was like what?
Minaj continued, talking about how she felt that nobody stepped in on her behalf to fend for her. "It hurt my feelings to know that people would watch me be slaughtered and not one person will step in to say the truth," she said. "They will run with the lie, they'll allow people to run with the lie because it's entertaining to make Nicki seem like the bad guy … up until this recent interview that she did, I had never seen her show me genuine love in an interview."
You guys, why can't we all just get along?
Well it turns out, we might just be able to do that.
The pair were spotted having a few moments together at this year's Met Gala, and in an interview with Howard Stern on his SiriusXM radio show on Wednesday, May 8, Cardi B said that they were settling some "issues." She said,
I never was feuding with anybody; there was a misunderstanding. I think she felt a certain type of way about something. I definitely felt a certain type of way about something. I didn't wanna ever talk about it in public because I felt like we gonna see each other again and we will talk about it, and it's always like little issues. The thing is, it's always little issues, but you know, fans are always gonna make it a big thing.
She continued, saying, "I spoke to her about it. I spoke to her at the Met Gala about it, and it's just like, see? It's just something that had to be talked about because it was an issue ... I'm not gonna talk about it, but I really feel a certain type of way. My feelings was really hurt, and I was just on some, 'You know what? This is why I just keep to myself. This is why I cannot f*ck with nobody.'"
So, will these peaceful union last? Who knows, but for the time being, I'm totally loving the idea of a collaboration with these two, showing the world that they're totally over it. C'mon ladies, think of how powerful you'd be if you combined forces!