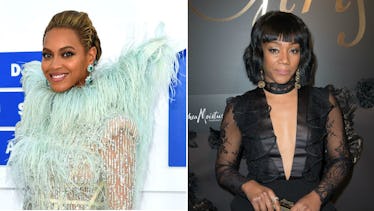 Tiffany Haddish Claims An Actress Bit Beyoncé On The Face & The Story Is Nuts
Jamie McCarthy/Earl Gibson III/Getty Images Entertainment/Getty Images
I love Tiffany Haddish. She's hilarious, she's a great actress (hello, have you seen Girls Trip?), and apparently, she's not afraid to share some interesting rumors about her celebrity squad. But there's one in particular that takes the cake. In an interview with GQ, Tiffany Haddish claims Beyoncé was bit on the face by another actress. While nothing has been confirmed, it's a pretty bonkers rumor. Elite Daily reached out to Beyoncé's team about the reported incident, but has not heard back at the time of publishing. Beyoncé's representative, Yvette Noel-Schure, also told GQ, "I absolutely cannot comment on any of this, as I have no knowledge."
Haddish claims she met Beyoncé at a party last December, and Bey introduced herself (as if she needs an introduction). "There was this actress there," Haddish claims. "That's just, like, doing the mostest," and ended up allegedly biting Beyoncé's face. Haddish wouldn't reveal the name of the actress, so the details are a little fuzzy.
According to Haddish, "Beyoncé stormed away, went up to JAY-Z, and was like, 'JAY! Come here! This b*tch—' and snatched him. They went to the back of the room. I was like, 'What just happened?' And Beyoncé's friend walked up and was like, 'Can you believe this b*tch just bit Beyoncé?'"
Bit. Beyoncé. But how? But why? BUT HOW??
"And so then, a lot of things happened," Haddish claims.
Um, yah. If someone DID bite Beyoncé's face, I'd assume that a lot of things should happen.
According to Haddish, the actress who allegedly bit Beyoncé didn't get kicked out of the party (not sure how, TBH), and continued to bump into Haddish throughout the night, much to Haddish's dismay.
"And then Beyoncé and JAY-Z walked by me, and I tapped Beyoncé," Haddish claims, adding that she reportedly told Beyoncé, "I'm going to beat somebody ass at your party. I just want to let you know that."
Haddish claims Beyoncé told her to "have fun" instead, and this was the reported moment where the world got the Beyoncé-and-Tiffany Haddish selfie.
Please review Exhibit A:
If Beyonce´did take a bite to the face, it must have been the other side, because the side we see in this selfie looks unharmed.
Haddish claims she went up to Beyoncé at the end of the night to see what really went down: "Near the end of the party, Beyoncé's at the bar, so I said to Beyoncé, 'Did she really bite you?' She was like, 'Yeah.' I was like, 'She gonna get her ass beat tonight.' She was like, 'Tiffany, no. Don't do that. That b*tch is on drugs. She not even drunk. The b*tch is on drugs. She not like that all the time. Just chill.'"
HOW CAN WE CHILL AT A TIME LIKE THIS? We've got rumors that an actress who-shall-not-be-named bit Beyoncé in the face. Chilling is not an option.
Haddish clearly agrees, though, because previously, she wouldn't comment on what went down when she met Beyoncé. However, she clearly couldn't hold in the story. She claims to GQ, "There's people out here biting Beyoncé!"
BRB, just choking on my drink.
But let's also remember that none of this was confirmed by Beyoncé herself or by any of her representatives, so we don't know for sure what's true and what's not.
Will the world ever know if Mrs. Knowles-Carter had some bite marks on her face at that party? And, if it's ever confirmed, will we know which actress did the biting?
Sadly, probably not, because we are not a part of the A-list crew where partying with Beyoncé is just another typical night out.
So long as Beyoncé is OK, I'm more than fine with never knowing the truth.
We must protect the queen at all costs.