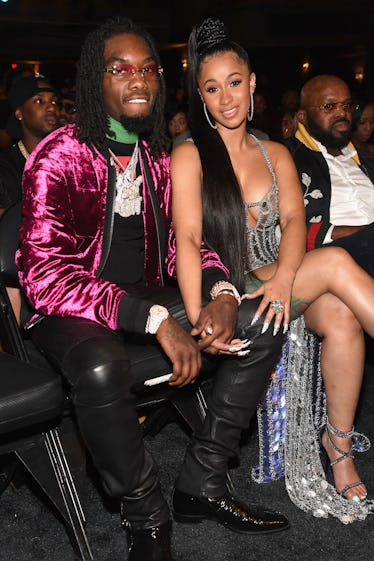 Cardi B Just Shared The Tiniest Peek At Baby Kulture On Instagram Because She's A Tease
Paras Griffin/Getty Images Entertainment/Getty Images
This is a Cardi B world we're living in, you guys, and it's clear that she makes the rules (not that I'm complaining). So when she and rapper Offset welcomed their first daughter, Kulture Kiari Cephus, into the world on July 10, the world was anticipating at least one million photos of the little one. But nope, not with Cardi in charge! We've yet to see a family photo album just yet, but this photo of Cardi B and Offset holding Kulture will clearly have to suffice for now.
It was only just a few days ago when, at the MTV VMAs, Cardi B opened the show, flaunting a gorgeous red dress, new pixie hairstyle, and swaddling something in a pink blanket, causing many to freak out that the world was finally going to get a glimpse of baby Kulture. (Offset, on the other hand, looked angry as hell, because he clearly didn't know how all of that was going to pan out.)
Cardi B told the audience, "I got a little surprise for you, know what I'm saying?" and opened the blanket, only to reveal the VMAs Moonman statue, shouting, "Welcome to the 2018 VMAs!"
It was actually pretty funny (and so very Cardi B), but that meant we didn't get to see even the tiniest peek of Kulture:
And once more, Cardi B is here to fool around with us and get our hopes up, because she finally, finally, posted a picture of herself and Offset with Kulture on Instagram... except when you see the picture, you'll have to literally squint to see where Kulture is in the photo.
On Aug. 22, Cardi took to Instagram and debuted a family photo, captioning the snapshot, "KultureK." Now don't get me wrong — it's a beautiful photo of two parents looking lovingly down towards their newborn daughter, but the problem is that we can see maybe a centimeter of Kulture's face:
Cardi's new 'do? Yep, we see that. Offset's blingin' earring? Check. Cardi's out-of-this-world lashes? See those loud and clear. And Kulture? Welllll.
We essentially see a tiny fraction of her forehead, as well as what appears to be a tiny knitted hat, and that's about it. But you know what fam? I'm going to take it, okurrr?
And if you think that Cardi will be showing Kulture off anytime soon, you might be let down to hear that Cardi B doesn't want Kulture's photos in the media just yet. According to TMZ, a source said that "multiple magazines, websites and photo agencies have reached out with offers for Kulture's first photo shoot," with offers as high as $100K rolling in, but that "Cardi and Offset have no desire to make a deal," and won't consider any offer until Kulture is "at least 5 or 6 months old."
Totally understandable if you ask me, but if we can't see any professional photos, maybe Cardi could do us all a solid and give us a little more to work with on social media? The top of Kulture's head is beyond adorable, but seeing her face would make my life actually complete.
But until then, I'll just be sitting here with my magnifying glass, adoring that little sliver of Cardi B's daughter's forehead as best I can.