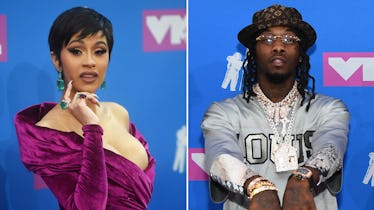 Offset Got So Mad At Cardi B At The VMAs, But The Reason Will Make You LOL
Jamie McCarthy & Nicholas Hunt/Getty Images Entertainment/Getty Images
Cardi B can't be contained, guys. She's known to do whatever she wants, whenever she wants, wherever she wants, and if that means bringing her brand new baby on stage at the 2018 VMAs for the world to see, then who am I to judge. When Cardi B walked onto the stage swaddling something in a blanket, everyone believed her sweet new babe, Kulture, was inside... even her husband, Offset. By the looks of it, he was none too pleased, either. The reason Offset got mad at Cardi B at the 2018 VMAs was a simple misunderstanding, but cameras caught it nonetheless. Just before Cardi B revealed she was playing a joke and actually holding a VMA Moonman, the camera panned to her hubby's face and he was NOT impressed. For real. Well, jokes on him.
Cardi B and Offset welcomed their first child together on July 10, 2018, barely one month before the VMAs. Cardi B opened up the show looking like literally millions of dollars rocking a red dress and carrying a pink blanket. Her maternal instincts must be strong as hell, because the way she was holding that fake baby was legit.
"What's poppin', everybody?" she said. "It's a full house. Everybody's here! No wonder my Internet's going slow. Y'all taking all the service."
Cut to Offset just not having it.
Cardi B was unfazed. "Anyway," she continued. "I got a little surprise for you, know what I'm saying?" From there, she happily peeled open her blanket to reveal a Moonman statue, which she triumphantly held up as if she actually gave birth to it. "Welcome to the 2018 VMAs!" she shouted.
Catch the whole moment in the video here:
After the show, Cardi B took to Twitter to explain the look on her husband's face. She wrote: "Why Set said i was sooo mad, when i saw you on stage with that blanket I thought you was going to show Kulture."
Oh, silly Offset. Don't you know by now Cardi B always has a trick up her sleeve? She went on to win three awards that night, one for Best New Artist, Best Collaboration for her track "Dinero" with Jennifer Lopez and DJ Khaled, and Song of the Summer for her song, "I Like It." During her acceptance speech for Best New Artist, she brought Kulture back into the mix. She said,
I'm so happy to receive this award. A couple of months ago a lot of people were saying, 'You're gambling your career! You're about to have a baby, what are you doing?' And you know, I carried the baby, I had the baby, and now I'm still winning awards!
Damn straight you are, Cardi. Fans are still waiting for Kulture's official big reveal but are certain whenever the time comes it will be epic. It's unclear if it will come via Instagram, Twitter, another award show's stage, or something only Cardi would think of, but I seriously can't wait for it.