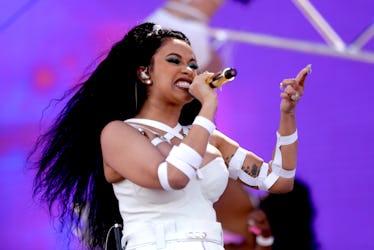 Cardi B Just Made Her First Public Appearance Since Giving Birth At The VMAs
Rich Fury/Getty Images Entertainment/Getty Images
It's been a big year for Cardi B, and she isn't slowing down. Between recording hit songs, performing, and starting a family, the "I Like It" rapper is embracing her success — on stage and off. There's no question that Cardi is taking the music industry by storm, and it would make total sense if she appeared at MTV's Video Music Awards. Now that the biggest night of music is finally here, you might be wondering if Cardi B is at the 2018 VMAs. The answer is yes, she is. Did you actually think Cardi would miss out on it? Okurrr.
If you're currently watching the VMAs red carpet, then you probably already saw Cardi's big debut. (If you aren't, make sure you tune in for the big show at 9 p.m. ET.) The rapper appeared on the red carpet during the Twitter pre-show, and who knows what will happen when the show starts?
At this very moment, you can hardly tell that Cardi had her first child less than two months ago. The pop star gave birth to her daughter on July 10, 2018 with her fiancé, Offset. She announced the news of her newborn via Instagram with a floral post that said, "Kulture Kiari Cephus 07/10/18🎀🌸 @offsetyrn." Fast forward a little over one month, and she's on the red carpet during the VMAs doing what she does best. If Kulture is watching, she's probably proud of her musical mama.
MTV announced Cardi B's VMA performance via Twitter on Wednesday, Aug. 15 — and it got fans super excited for the show.
Shortly after the Video Music Awards' Twitter account shared the news, Cardi confirmed her appearance on Instagram. She screen shotted the tweet, and wrote, "See you there!" Of course, the comment section filled up with excitement and encouraging messages. I mean, let's face it: Opening on the VMAs is a huge deal — and fans were stoked.
At that moment, fans also seemed confused about whether Cardi was performing during the opening of the show, or just making an on-stage appearance. However, she quickly cleared everyone's confusion up with an Instagram Story posted on Thursday, Aug. 16. To get her point across, Cardi screen shotted a Rolling Stone article that said it'd be her "first performance since giving birth." On top of the screen shot, she wrote, "I'M JUST OPENING I'M NOT PERFORMING !!!"
Now that Cardi B has already made her 2018 VMAs debut, we can find out soon if she was telling the truth.
Just because she hasn't performed yet doesn't mean she doesn't have the opportunity to get back on stage throughout the night. The rapper is currently nominated for 10 awards, including Video of the Year, Artist of the Year, Song of the Year, Best New Artist, Best Collaboration (for two songs), Best Hip Hop, Best Latin, Best Choreography, and Best Editing. Phew, that's a lot nominations.
Between Cardi's opening appearance and all of the awards she's nominated for, it's obvious that the rapper is just getting started. If she keeps it up, I'm sure she'll appear at more VMAs in years to come.