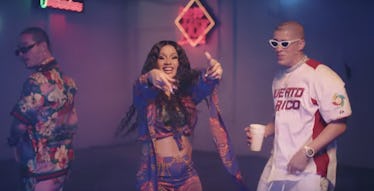 Cardi B's Baby Bump Is Front & Center In Her Sexy New "I Like It" Video & I Love It
YouTube
This is Cardi B's world, and we are simply living in it, y'all. The rapper and soon-to-be mama has been absolutely crushing life lately, and I have been living for the new music she's been dropping. And now, Cardi B's "I Like It" music video, fresh off of her new Invasion of Privacy album, is pure gold. We've got a gorgeous, colorful setting, some dirty dancin', and, of course, Cardi B showing off her stunning baby bump. This is probably one of my favorite songs off the album, and this video totally does it justice — so let's all hail Cardi B.
Less than two months ago, Cardi B was the musical guest on Saturday Night Live on Saturday, April 7, when, during her second performance, she came out in a gorgeous white fitted dress that showed off her baby bump, confirming that she was expecting her first child with fiancé, Offset. It was, in a word, glorious, and fans were beyond excited for her.
This all went down just one day after her debut album, Invasion of Privacy, was set to drop, which has already received plenty of accolades. It felt as if there was truly nothing that Cardi B couldn't do. And now, her newest music video proves that sentiment once again. The song "I Like It," featuring Bad Bunny and J Balvin, is upbeat, funky, and samples the classic 1967 salsa hit "I Like It Like That." So, obviously, the song makes you want to salsa — or, at the very least, it will make you *pretend* you know how to salsa.
It's colorful. It's sexy. And Cardi B looks like actual #goals, even with a growing baby bump. I'm not sure how she makes it look so effortless and easy to perform while pregnant, but that girl is SLAYING:
How epic is that video? I just dig the entire vibe, and I freaking LOVE that Cardi B is unapologetically flaunting her baby bump. I also appreciate how candid Cardi B has been in the past about her pregnancy, something which some fans took issue with.
On April 10, Cardi visited iHeartMedia's Power 105.1 The Breakfast Club and discussed the balance of her career and her personal life. She said, "I'm a grown woman, I'm 25 years old, I'm a schmillionaire... I'm prepared for this."
Preach, Cardi, preach! I mean, imagine if someone told you that getting pregnant AND being successful wasn't an option? Psh. Later, hater.
She also talked about how the negativity is something she truly doesn't understand, and wants people to know that she shouldn't feel like she needs to choose one way or the other. She said,
It just really bothers me and it disgusts me, because I see a lot of women online like, 'Oh, I feel sorry for you. Oh, your life is over.' It's like, why can't I have both? Why do I have to choose between a career and a baby? I want both ... I don't want to wait until I'm 30-something to have a kid. I want my kid now, now that I have energy.
But don't think that Cardi is just going to slowly back out of music after having her baby, which reportedly might be as early as July. She said, "A lot of people were telling me, 'What are you doing? What are you doing?' And I'm like, 'OK, I'm pregnant, but I have a game plan. Y'all gonna have a job still.'"
Always being a step ahead of everyone else. Classic mom move right there.
Now that we know Cardi is capable of delivering pure fire while also carrying a human inside of her, let's all just give her a huge round of applause. That kind of multitasking is not easy, and Cardi's making it look like a piece of cake.