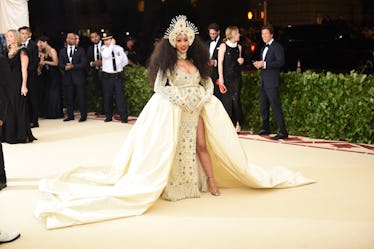 Cardi B Just Returned To Instagram & The Reason Why Is So, So Exciting
Jason Kempin/Getty Images Entertainment/Getty Images
This is not a drill you guys — Cardi B is back on Instagram, and suddenly, all is right with the world again! The rapper deactivated her account last week after posting a heated response to Azealia Banks, who threw some major shade her way in an interview. But Cardi B reactivated her Instagram on May 20, and the reason why is so amazing, you guys! Are you ready? The "Bodak Yellow" singer came back to social media in order to tease the release of the video for her single, "Be Careful," which dropped on Monday, May 21. YAS, queen!
But let's back up for a sec to review the events that caused Cardi to shut down her account in the first place. During a May 11 chat on The Breakfast Club radio show, Banks dragged Cardi big time, calling her everything from an "illiterate, untalented rat" to a "caricature of a black woman."
"Two years ago, the conversation surrounding black women's culture was really reaching an all-time high," Banks said. "There was just this really, really, really intelligent conversation going on nationally and then everything just kind of changed and then it was like Cardi B."
"I'm just talking about this caricature of a black woman that black women themselves would never be able to get away with," Banks continued. "Like, if my spelling and grammar was that bad, I'd be canceled. If Nicki Minaj spelled like that, we would be ragging on her all day."
Wow. Not surprisingly, Cardi B responded to the offensive remarks in the comment section of an Instagram post featuring a video of the little chat.
"I'm from the hood. I speak how I speak I am how I am," Cardi wrote. "I did not choose to be famous people choose me! People followed me on Instagram and the people gave me a platform to introduce my talent. I never asked to be an example or a role model I don't want to change my ways because I'm famous that's why I just mind my business. This is coming from a woman that bleached her skin but want to advocate. GOODBYE."
Tell 'em, girl! She deleted her account soon after. But she did share one more lengthy message before doing so.
"Just because I mix a few words up, forget to use commas or misspell a few words doesn't make me illiterate and doesn't make me stupid," she wrote. "And because I laugh a little harder or talk a little louder doesn't make me a caricature! You think your (sic) advocating for women and you're doing the opposite! I pray you find peace in your own heart and reason in your mind! Pray for your own success before you pray for the downfall of others!"
I love this response so much! Women need to help other women, and to me, Banks' statements slamming Cardi are a perfect example of a woman not doing that. But Cardi kept things classy while clapping back, for the most, then disappeared from social media, effectively shutting down the discussion.
But now she's back, and the reason has nothing to do with the feud, and everything to do with Cardi's super-hot career. On May 20, Cardi took home the Billboard Music Award for Top Female Rap Artist, and she also made her glorious return to the 'gram with a post that featured a clip from her "Be Careful" music video.
"'Be Careful' video coming tomorrow on my youtube page," she wrote in the caption. "Love ya."
Right backatcha, Cardi!