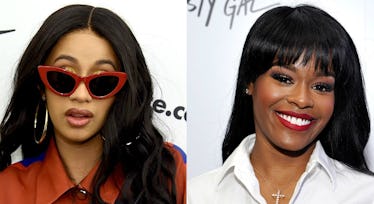 Cardi B Clapped Back At Azealia Banks' Insults & Then Deleted Her Instagram
Jamie McCarthy/ John Sciulli/ Getty Images Entertainment/ Getty Images
Katy Perry and Taylor Swift might have laid their "Bad Blood" to rest with a (literal) olive branch just days ago, but Hollywood only had a moment to breath a sigh of relief before rap queens Cardi B and Azealia Banks reignited their feud — and things got ugly fast, leading the "Bodak Yellow" hitmaker to bow out of the argument and even social media. So why did Cardi B delete her Instagram? Here's everything that's gone down so far.
It all started when Azealia Banks decided to stir things up by sharing her less-than-flattering two cents on the "Bartier Cardi" songstress, who is currently pregnant with her first child. In a radio interview with The Breakfast Club on Friday, May 11, Banks didn't hold back on the shade, referring to the rapper as a "Caricature of a black woman" before throwing punches by calling her an "illiterate, untalented rat." Yikes.
"Two years ago, the conversation surrounding black women's culture was really reaching an all-time high," Banks told the radio station before launching into a comparison of Cardi B, whose real name is Belcalis Almanzar, to fellow black female artists like Beyoncé, Nicki Minaj, and herself.
In particular applauding Beyoncé's stigma-breaking 2016 Lemonade album, Banks continued, "Maybe two years ago, the conversation surrounding black women's culture was reaching an all-time high. We were discussing our power amongst ourselves. Beyoncé came out with Lemonade and there was a really intelligent conversation going on nationally. And then, everything just kind of changed and then it was, like, Cardi B."
"I'm just talking about this caricature of a black woman that black women themselves would never be able to get away with," Banks continued, calling Cardi B's music a "culture shock."
"Like, if my spelling and grammar was that bad, I'd be canceled," she added. "If Nicki Minaj spelled like that, we would be ragging on her all day."
Unsurprisingly, Cardi B had plenty to say to these comments, and swiftly took to Instagram to spill some tea of her own.
In a since-deleted Instagram post, the 25-year-old defended her music and personality. "I'm from the hood," she wrote, captured in a screenshot from UTOR Hip Hop. "I speak how I speak. I am how I am. I did not choose to be famous — people choose me. People followed me on Instagram and the people gave me a platform to introduce my talent. I never asked to be an example or a role model. I don't want to change my ways because I'm famous. That's what I just mind my business."
Cardi B — who is currently expecting with fiancé Offset of Migos — then turned the shade on Banks, writing, "This is coming from a woman that bleached her skin but want to advocate. Goodbye. I'm not apologizing or killing myself because of who I am."
That's when things really started escalating. Banks clapped back, "So because I point out that you get away with being the typical caricature of a black woman that society says is wrong ... and you respond by calling me unattractive and bringing up skin bleaching to basically make fun of me for not being light skinned?" before launching into an expletive-filled tirade calling Cardi B a "bird brained scum bucket," among other things.
There's more. Right before she took herself out of the feud by deleting her Instagram account and making her Twitter private, Cardi B took a moment to pen a since-deleted lengthy comeback.
"You busy trying to be a voice of reason and a representative for women of color (sic) when you can't even reason with yourself," she wrote on Instagram. "Just because I mix a few words up, forget to use commas or misspell a few words doesn't make me illiterate and doesn't make me stupid," she added. "And because I laugh a little harder or talk a little louder doesn't make me a caricature!"
"You think your advocating for women and you're (sic) doing the opposite!" she continued. "I pray you find peace in your own heart and reason in your mind! Pray for your own success before you pray for the downfall of others!"
Banks has since responded with a long message, in which she personally attacked Almanzar's appearance and likened her to a "big toe with a hammernail."
Banks is no stranger to Twitter beefs, and has used the platform to come for Rihanna, Zayn Malik, and even the LGBT community in expletive-filled, often racist or homophobic rants.
In fact, this isn't the first time she's blasted the "MotorSport" songstress. In a series of since-deleted Tweets in September 2017, Banks referred to Cardi B as the "poor man's Nicki Minaj." "I'm sorry. Black industry men are too hype for this Latina girl I've never seen them jump like this for Remy [Ma] or Nicki [Minaj]," Banks tweeted, according to Complex.
According to Complex, Cardi B responded at the time by uploading a video of Banks singing along to her hit single "Bodak Yellow" at a club, which she captioned, "One of the reasons Bodak Yellow went #1 cuz even the HATERS LOVE IT !!"
Flash forward to 2018, and it looks like Cardi B has finally had enough of this hater, as she's since deleted her Instagram account and made her Twitter private. Although the stars' feud might be on hold for the time being, I'm sure the Twitterverse will be staying tuned to see who has the last word in this rap battle.