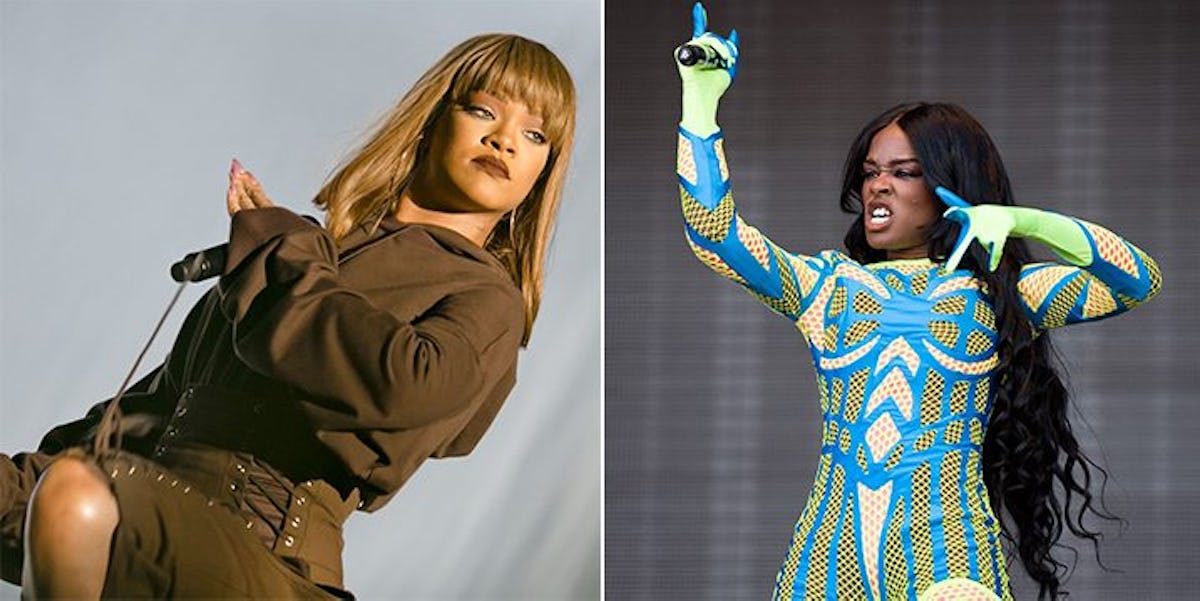 Rihanna Calls Trump An 'Immoral Pig,' Azealia Banks Tells Her To 'Shut Up'
REX/Shutterstock
Azealia Banks came for Rihanna on Twitter, but, like, she also came for refugees because it's 2017 and all news is sad news.
On Saturday, RiRi tweeted her outrage over President Donald Trump's order to restrict immigration and travel from select Muslim countries for 90 days.
In a series of since-deleted Instagram posts, Azealia called Rihanna out for her perceived lack of patriotism.
The 25-year-old reminded followers the Barbadian singer "isn't a citizen, and can't vote," which felt like the 2017 version of Tai calling Cher "a virgin who can't drive" in the 1995 cinematic masterpiece "Clueless."
She added,
Shut up and sit down. Stop chastising the president. It's stupid and pathetic to watch.
In another deleted post, the rapper shared the fear and "certain level of ignorance" influencing her decision to support Trump's order, the Huffington Post reports.
She wrote,
As an American who enjoys her safety and overall ability to maintain a certain level of ignorance as pertains to the world outside of our borders, I am 100% shook about open borders and would be reallllllllllllly scared for myself and my family if any parts of that war began to become real on this soil.
Rather than remind Azealia Trump's order affected American citizens and refugees, Rihanna went with a simple black and white photo of herself and a caption embracing her roots.
The "This Is What You Came For" singer wrote,
The face you make when you a immigrant.
At one point during the feud, Azealia reportedly posted RiRi's phone number, taking things to a needlessly petty but ultimately very watchable level.
Of course, there was a time in the not-so-distant past we thought Azealia Banks would entertain us with her music, but this is fine, too.
On the bright side (or somewhat less gloomy side, at this point), if there's one person who can bring about peace in an ugly online battle, it's Rihanna.
Embrace her. Fear her. Follow her lead. Rihanna will show us the way.
Citations: Azealia Banks Defends Donald Trump's Travel Ban, Tells Rihanna To 'Shut Up' (Huffington Post)