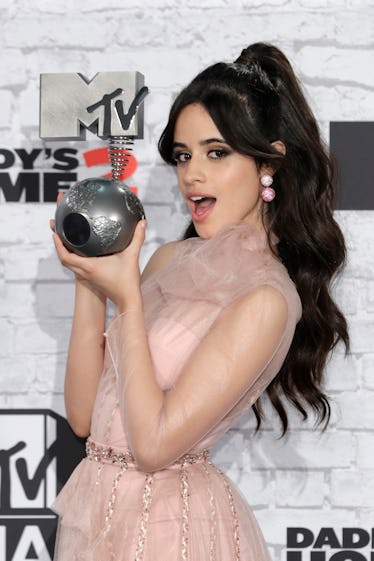 Here's How You Can Stream The MTV VMAs So That You Don't Miss A Single Musical Moment
John Phillips/Getty Images Entertainment/Getty Images
The 2018 MTV Video Music Awards are airing on Monday, Aug. 20 and that means it's time to sort out how you're going to watch the ceremony unfold. If you don't have a TV to watch the VMAs, don't even worry about it. There are plenty of ways to stream the entire broadcast from your phone, tablet, or laptop that won't cost you a thing. So, I've compiled a super convenient list of resources that tells you exactly how to stream the 2018 MTV VMAs.
Everyone has their own schedule and their own preferred way of watching, so I've tried to include a variety of ways for you to watch. Hopefully, one of them works for you! Here's what you can do to stream the 2018 MTV VMAs:
Head Over To MTV's Website
The 2018 VMAs will stream via MTV's website. You can watch the entire broadcast live just like you would with cable TV. Unfortunately, you will need a cable login to access the stream. So, if you don't have one, you might just have to wait until the show is available elsewhere!
Try The MTV App
If you've got the MTV App downloaded to your phone, you're in luck, because the 2018 VMAs will also be streaming there. You'll be able to catch all the best performances, acceptance speeches, and awkward VMA moments while you're on the go. It's perfect if you have a long commute home and won't be back in time to catch the show on TV.
If you don't have the MTV app, you can head right over to iTunes or the Google Play Store and download it.
Give Your Your Cable Provider A Try
If you have cable, but you're not into watching the show on your TV, you can likely use your cable login to watch it on your laptop. Most cable providers offer the option to watch live television via their website. Just login as you normally would and navigate to where you can watch live TV.
There may be a slight lag between the live show and what you see on the site, but it's worth it if you don't have a TV at your disposal. It's also good to keep in mind that your cable provider's website may take you to MTV's website to watch the VMAs. So, you might be prompted to log in on MTV's website as well.
Another tip to keep in mind is that your cable provider might have a mobile app that lets you watch live TV. If you can't make it to your laptop in time for the show, then a mobile app might be your next best option. Either way, you should be able to catch all the best VMA moments.
The 2018 MTV Video Music Awards air Monday, Aug. 20 at 9 p.m. ET on MTV. The ceremony will be airing live from Radio City Music Hall in New York City. Shawn Mendes, Nicki Minaj, and Post Malone are set to perform, so it's a show you definitely don't want to miss!