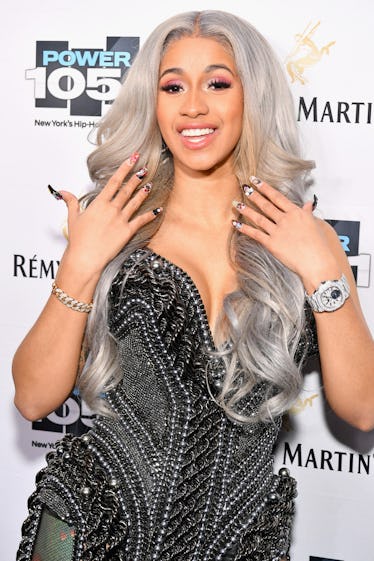 Cardi B's Instagram Post About Her Postpartum Depression Is So Real In The Most Cardi B Way
Dia Dipasupil/Getty Images Entertainment/Getty Images
Cardi B gave birth to her and Offset's daughter, Kulture, on July 10, and the internet learned of the little baby Bardi on July 11. Cardi's remained just as active on social media as ever since giving birth, so it comes as no surprise that she's been very vocal about life as a new mom. In an Instagram post on Aug. 7, she revealed that her post-birth life hasn't been amazing every single moment, which is to be expected. Motherhood is hard work! Cardi B's Instagram about her postpartum emotions is so on par with everything you'd expect from a Cardi B Instagram post, but it also revealed a deeply personal aspect of the rapper's life.
Cardi reposted a video from comedian Jay Versace's Instagram that showed him talking to his inner self (aka his reflection). In the hilarious video, he says, "I don't know who I am anymore," and his inner self is like, "Wait, what do you mean by that? If you don't know who you are, how am I supposed to know?!"
Cardi posted the video and said, "This is how postpartum got me 😩😩The emotional struggle. BARDI vs BELCALIS." She made it clear that her experiences with postpartum emotions are making her feel like a different person, like she has an alter ego that she doesn't recognize. (Belcalis Almanzar is Cardi B' real name, by the way.)
Postpartum depression is something countless mothers experience, and not only after having their first child, so it's good to see Cardi B opening up about her experiences. It'll only help other mothers who are also struggling feel less alone.
She also opened up on her story, writing, "This postpartum sh*t is annoying. Like I been emotional all f*cking day for no reason."
Cardi B recently announced she dropped out of Bruno Mars' 24K Magic tour that she was set to kick off in September, saying she needs to stay home with her daughter and give herself more time to heal.
She tweeted on July 26,
As of today I've decided I won't be joining Bruno on tour this Fall. I thought that after giving birth to my daughter that 6 weeks would be enough time for me to recover mentally and physically. I also thought that I'd be able to bring her with me on tour, but I think I underestimated this whole mommy thing. Not only am I just not ready physically, I'm not ready to leave my baby behind since the doctors explained it's not healthy for her to be on the road. I hope you guys understand that this decision has been the hardest to make but I have to do what's best for myself and my baby! Thank you Bruno for being so supportive and understanding.
It's possible that her experience with postpartum depression contributed to this decision of hers, which would be completely understandable.
Bruno Mars took no issue with Cardi's reasoning, and he made that clear in a message to Cardi he posted on Twitter shortly after she made her announcement.
He said,
A Message for Cardi. Most important thing is you and your family's health. I know the fans will understand. You are absolutely doing the right thing. I also know we'll share the stage when the time is right. We love you Cardi and we will play Bodak Yellow every night in your honor. Please give your baby girl a hug from me and a hug on behalf of everyone on The 24k Magic Tour. Love, Bruno.
Being a new mom is really difficult, so good on Cardi for being honest with herself about what she, her baby, and her body can handle after giving birth and for making a healthy decision for herself.
If you or someone you know is experiencing postpartum depression, call Postpartum Support International at 800-944-4773 or text 503-894-9453 for 24-hour support services. If you need immediate support, call the San Diego Access and Crisis Line at 888-724-7240 for 24-hour support. And if you or someone you know is experiencing suicidal thoughts, call the National Suicide Prevention Hotline at 1-800-273-8255 or text HOME to the Crisis Text Line at 741741. You can also reach out to the Trans Lifeline at 877-565-8860 or the Trevor Lifeline at 1-866-488-7386, or to your local suicide crisis center. For more information on postpartum depression, visit mentalhealth.gov.