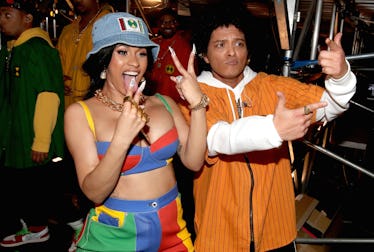 Cardi B Dropped Out Of Her Tour With Bruno Mars & The Reason Why Is Actually Understandable
Christopher Polk/Getty Images for NARAS
If you were excited to see Cardi B on tour this fall, don't hold your breath. The rapper has officially backed out of Bruno Mars' 24k Magic Tour, which she was set to join in September. Why did Cardi B drop out of her tour with Bruno Mars? Well, while it's no doubt a disappointing development for Cardi and Bruno fans alike, her reasoning is sound. In her announcement revealing the decision, the new mom got real with fans saying that going on tour is not the right choice for her and her newborn daughter, Kulture.
"As of today I've decided I won't be joining Bruno on tour this Fall," Cardi B's statement began. "I thought that after giving birth to my daughter that 6 weeks would be enough time for me to recover mentally and physically. I also thought that I'd be able to bring her with me on tour, but I think I underestimated this whole mommy thing."
Cardi B gave birth to her and her husband Offset's first child together on July 10, according to the birth announcement Cardi posted on Instagram. The baby girl's name is Kulture Kiari Cephus — a name that's an ode to her father's music and his real name, Kiari Kendrell Cephus.
The rest of Cardi B's announcement about her tour cancellation read,
Not only am I just not ready physically, I'm not ready to leave my baby behind since the doctors explained it's not healthy for her to be on the road. I hope you guys understand that this decision has been the hardest to make but I have to do what's best for myself and my baby! Thank you Bruno for being so supportive and understanding.
The fans will understand, Cardi! Some fans on Twitter, however, are already shaming the new mom a bit, saying it should've been obvious that a 6-week-old baby can't go on a tour around the country. But let's give Cardi some room to grow here, guys. She's a new mom and is figuring things out as she goes.
Bruno Mars certainly understands, as he tweeted a response to Cardi B's announcement that was as supportive as supportive can get.
His statement read,
A Message for Cardi. Most important thing is you and your family's health. I know the fans will understand. You are absolutely doing the right thing. I also know we'll share the stage when the time is right. We love you Cardi and we will play Bodak Yellow every night in your honor. Please give your baby girl a hug from me and a hug on behalf of everyone on The 24k Magic Tour. Love, Bruno.
Feeling the love, Bruno! Honestly, I always thought it was kind of odd that Cardi B was going on tour with Bruno Mars, considering she's popular enough to sell out her own solo tour. I get that lots of artists go on joint tours nowadays and it's not like one is opening for the other when they do it. Nicki Minaj and Future are touring together soon, Drake and Future have toured together in the past, and the almighty Beyoncé and JAY-Z are currently on their second joint tour. But it always struck me as weird that after the wildly successful year Cardi B has had, she wasn't going to be doing her own Invasion of Privacy tour. Who knows, maybe she will once little Kulture is old enough to hit the road!