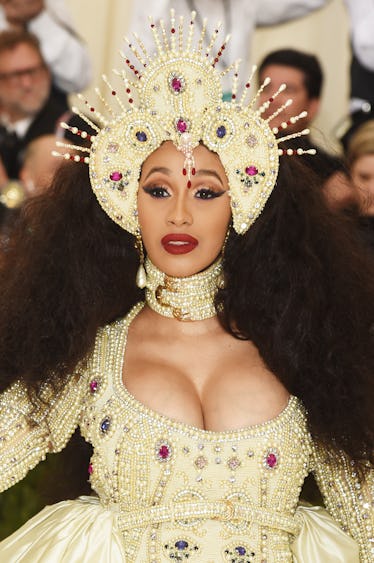 The Meaning Of Cardi B's Baby's Name Makes Sense Considering Her Family's Unique Names
Jamie McCarthy/Getty Images Entertainment/Getty Images
Cardi B is a mom! The rapper gave birth to a baby girl on July 10, 2018, according to an Instagram post announcing the baby's birth on July 11 around 11 a.m. ET. The rapper revealed the name of her and Offset's daughter in the post's caption. Offset and Cardi B named their daughter Kulture Kiari Cephus. The meaning of Cardi B's baby's name is so sweet. We all know the meaning of the word "culture," so it seems like Cardi and Offset chose this name (with an added twist in the spelling) as a powerful name for their daughter. According to the Google dictionary, the meaning of "culture" is "the arts and other manifestations of human intellectual achievement regarded collectively." That's a very powerful name to give a baby girl. Kiari is also Offset's actual first name (his full name is Kiari Kendrell Cephus), so the middle name is an ode to her father. And Cardi B's Instagram announcing Kulture's birth is so beautiful.
In an interview with Ellen DeGeneres that aired on April 19, Cardi B said Offset suggested the name and she fell in love with it immediately. "My dude named the baby," she said. "I really like the name." DeGeneres tried to get Cardi to reveal the name, but Cardi didn't budge. She said, "I'm gonna let him say the name since he named the baby." I mean, fair. People had been anxiously waiting to find out the name ever since Cardi B confirmed her pregnancy on Saturday Night Live on Saturday, April 7.
During her first performance on the show, Cardi B did a "Bodak Yellow"/"Bartier Cardi" mash-up. She took the SNL stage a second time to perform "Be Careful," and that's when she confirmed her pregnancy. The camera started with a tight shot on Cardi from her shoulders up, and then it slowly panned out to reveal the rapper's baby bump and she continued the performance amongst loud applause from the audience.
Despite the fact that she was announcing happy news during the performance of "Be Careful," Cardi B's "Be Careful" lyrics have an intense meaning. Cardi sings,
The only man, baby, I adore. I gave you everything, what's mine is yours. I want you to live your life of course. But I hope you get what you dyin' for. Be careful with me, do you know what you doin'? Whose feelings that you're hurtin' and bruisin'? You gon' gain the whole world. But is it worth the girl that you're losin'? Be careful with me. Yeah, it's not a threat, it's a warnin'. Be careful with me. Yeah, my heart is like a package with a fragile label on it. Be careful with me.
In the song, she seemingly calls out Offset for reportedly cheating on her. Before Invasion of Privacy and "Be Careful" came out, Cardi B responded to the cheating rumors and the backlash she got for staying with him in an interview with Cosmopolitan. She said,
It's like everybody is coming down my neck, like, 'Why are you not leaving him? You have low self-esteem.' I don't have low self-esteem. B*tch, I know I look good. I know I'm rich, I know I'm talented. I know I could get any man I want—any basketball player, football player. But I want to work out my shit with my man, and I don't got to explain why. I'm not your property. This is my life.
But things seem to be fine between Cardi and Offset now, and they're no doubt loving life with baby Kulture.
In an April 10 interview with iHeartMedia's Power 105.1 The Breakfast Club, Cardi talked about balancing her career during her pregnancy and how she planned to continue to do so once her baby was born. She said, "I'm a grown woman, I'm 25 years old ... I'm a schmillionaire ... I'm prepared for this."
The rapper also talked about how the backlash against her pregnancy made her upset. She said,
It just really bothers me and it disgusts me, because I see a lot of women online like, 'Oh, I feel sorry for you. Oh, your life is over.' It's like, why can't I have both? Why do I have to choose between a career and a baby? I want both ... I don't want to wait until I'm 30-something to have a kid. I want my kid now, now that I have energy.
Girl, preach.
In the "I Like It" music video, Cardi's baby bump is loud and proud throughout the whole thing.
Fans loved every part of the video.
Congratulations, Cardi B and Offset! I'm sure I speak for everyone when I say we can't wait to see the first picture of baby Kulture.