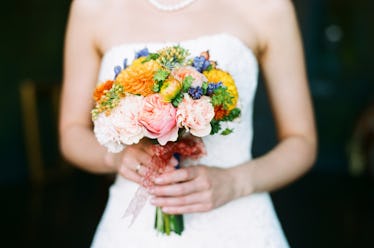 This List Of 12 Common Things That Annoy Wedding Guests Will Make You Say "Ugh"
Last weekend, my BFF texted me, "Kimmy — we have a crisis situation here. There was a storm. There's no power, no showers, no flushing toilets. Wedding in like three hours." I call this friend a professional wedding-goer, because she can't stop getting invited to weddings. Couples invite her to their weddings at other peoples' weddings. She's been to 16 weddings in three years, and she knows things that annoy wedding guests that I've never even had the chance to experience. (PSA to my friends' partners: will one of you put a ring on it already?)
Obviously, the storm that ravaged the wedding my friend attended last weekend was NOT one of those wedding annoyances — it was completely outside of anyone but Mother Nature's control. In fact, this particular wedding sounds like it was executed perfectly. The hosts even bought a ton of generators as soon as the power went out. (Spoiler: the power came back on just in time for the wedding, and all the guests were magically able to shower and get ready in the hotel spa bathrooms prior. HALLELUJAH!)
However, there are other wedding crises that do not take much planning to avoid that guests can spot a mile away. I don't mean intend to throw shade at friends and family whose weddings I have attended, but I do think it's smart to plan a wedding that minimizes disruptions to your guests' lives. (For my opinions on Friday weddings, see Number Five below.)
So, to that couple whose wedding I am mostly definitely attending: Yes, I am so happy you found love, but I also have a life. And financial responsibilities. I know you are spending a pretty penny on each invited guest, but I am also spending money on a gift, bachelorette, travel, a hotel, a dress, and more. I'm truly more than happy to do that, but I really appreciate an organized, well-planned wedding upon arrival. I don't care if you have $700 centerpieces — I care that everyone can relax and have fun!
I considered my own personal wedding pet peeves, and of course, consulted with my wedding expert BFF to compile this list of no-nos when it comes to inviting people to celebrate your love. And now if I ever get married, I have an internet-published list of things I hate to hold me accountable for throwing a good wedding. (Didn't exactly think that one through...)