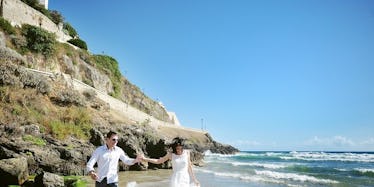 10 Outrageously Gorgeous Destination Wedding Locations To Add To Your Wish List
TL_Studio/Shutterstock
A destination wedding is not only magical, but it allows you and your almost spouse to travel to a different part of the world together. No one wants to feel like they're limited on their special day; they want to feel as limitless as the person they're marrying makes them feel. A lot of places for a destination wedding are so incredibly gorgeous that you can hardly grasp what it would have actually been like to be there. Of course you're happy to see it in pictures, but being there in person, experiencing and witnessing it firsthand, is almost unimaginable.
Visuals are one of the major appeals of destination weddings, and they draw so many brides, grooms, and guests around the world each year. The wedding seemingly happens so fast that you want to try and digest every beautiful piece of the scene. And let's be real, there's no such thing as a dull moment with a destination wedding, because there's elaborate scenery everywhere you look. It's definitely not what you're used to, and why should it be? You don't get married every day, so your wedding day should be the most exceptional day, according to your taste and perspective. So, if you've always wanted a destination wedding, these places have to make your list for sure.
1. Puerto Rico
How about doing your wedding here? It's just a perfect setting in the best beach in Isla Verde! @sjcourtyard https://t.co/HzMFxdzRkUpic.twitter.com/jU7sD34OLN — Jose Ruiz Photo (@joseruizphoto) March 31, 2017
When the clear blueness of the sky matches the water, you've landed in paradise. As much as saying "I do" is the most anticipated part, getting toes deep into those soft sandy beaches is an added bonus. Make sure you aim the bouquet toss at that water, though.
2. Costa Rica
Imagine having this view at your wedding reception?! Find out more about Villa Punto de Vista in Costa Rica: https://t.co/AsJA986TyMpic.twitter.com/yT5jl5vfKv — Bridal Guide (@bridalguidemag) July 21, 2017
Why does it seem like destination weddings dominate any outside wedding ideas? It's not even necessarily the nature outside; everything just pairs perfectly with the decor. Get those passports ready.
3. Jamaica
If unexpected wedding guests, like marine life, aren't a deal breaker, then this over-the-water chapel at @SandalsResorts is just the spot pic.twitter.com/24mwPDPfs2 — Weddings In Jamaica (@weddingsinja) July 5, 2017
A chapel over the water is definitely something for the books. And it's not just any only water, but clear blue water that actually looks like something you should be swimming in. This intimate location is a pretty big deal.
4. Belize
Nothing makes us happier than another perfect wedding in Belize! #wedding#xoBelizepic.twitter.com/oFKrZM1pIn — Ka'ana Resort (@Kaana_Belize) May 27, 2017
Oh, Belize. From Mayan ruins to amazing marine life, Belize sure is an extra sweet location for a wedding. Those wedding pictures will be absolutely gorgeous. That's one of the most important parts, isn't it?
5. Dominican Republic
Superhero themes, "Magic Mike" dancing, and Dominican Republic bliss... Sounds like a perfect destination wedding! https://t.co/gdZFqy18Dkpic.twitter.com/4TuMTIiFWZ — DestinationWeddings (@DestWeds) April 18, 2017
Despite whether you've been to the Dominican Republic for spring break or not, you already know it is happening there. Between the exquisite rainforests and the gorgeous beaches, what's not to love? Might as well honeymoon here as well, or you're seriously missing out.
6. Aruba
Our beachside #wedding celebrations begin at our Eternity Bridge, surrounded by an Aruban palette of island whites, greens, & blues. #Arubapic.twitter.com/AiGGmURKTG — The Ritz-Carlton (@RitzCarlton) August 25, 2017
Regardless of your color scheme, Aruba will amazingly add its own. The scenery is filled with bright, tropical pastels that pair perfectly with your magical moment. Be ready to add a "wow" right before saying "I do."
7. Puerto Rico
How to Plan a Destination Wedding, Honeymoon and Bachelorette on Puerto Rico https://t.co/t1WM4EDPpUpic.twitter.com/4KwicwkZM0 — BRIDES (@brides) April 10, 2017
Geese, these beautiful beaches seriously never get old. Even if your wedding isn't outside, you still have to experience these awesome shores sometime. Earth really has some unique gems.
8. Greece
5 breathtaking locations for a #wedding abroad in Greece. Make sure you choose the right one for you! https://t.co/16uBP56cZwpic.twitter.com/8I8kNvnPk7 — Marry Abroad (@marryabroad) August 19, 2017
Maybe you don't often hear about people going to Greece to get married, but again, there's so much incredible history to be learned here. We all wish we could afford hightailing it to Santorini or Mykonos and tying the knot. That sand literally looks so heavenly and soft.
9. Italy
Picturesque #wedding locations surrounded by countryside in Abruzzo, Italy. That's where @Antoniawedding can help https://t.co/w2w1W9IHh3pic.twitter.com/u9XAtpMjuj — Marry Abroad (@marryabroad) August 15, 2017
Aside from the fact that if you tie the knot in Abruzzo, you'll be pretty close to the Italy's fashion capital, Milan, you won't need much to get married in style. You'd be in Italy. You'd be living the pages of a breathtaking fairytale, IRL.
10. Croatia
So pretty, Dubrovnik is perfect for a #wedding in Croatia, ask Dinspiration weddings for a secret location https://t.co/bmtfj6D56Npic.twitter.com/YMh2EdIgse — Marry Abroad (@marryabroad) August 28, 2017
There are parts of Croatia you wouldn't believe are real. The scenery looks like it was perfectly painted as a mural. Your special day deserves a pristine location like this one.
Even if a destination wedding isn't in your cards, it's OK to dream about it. The most important thing is that you're getting married to someone you love. If you can't get married in your dream country, you two will have the rest of your lives to travel to those longed for places.