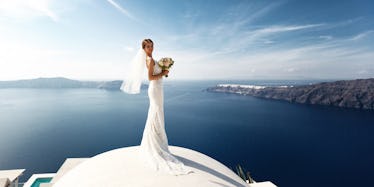 These Badass Destination Weddings Take Fairytale Endings To A New Level
Shutterstock
If you're like most ladies, you've probably dreamed about your wedding day since you were a little girl.
Yep, walking down the aisle is a pretty big deal.
So when it comes to taking the plunge, you can't just pick any old place to marry the love of your life.
If you're looking for a spot that will really make your ceremony stand out, sometimes you have to expand your horizons and ditch the boring old backyard reception for a breathtaking destination afar.
And, no, I'm not talking about hosting a basic bitch beachfront ceremony, either.
From dreamy desert backdrops and wild safari scenes to tree house vows, edgy rooftop receptions and mind-blowing mountain-top weddings, there are all sorts of unusual places that double as seriously impressive spots to say "I do" to your boo.
So we set out to find a bunch of badass destination weddings that will inspire you to think outside the box and tie the knot in a stunning locale that will make your wedding simply unforgettable.
Take a look at the pictures below to see some alternative destination weddings.
You can get married on a mountain top...
Say "I do" on a sand dune...
Go for a grand cliffside ceremony...
Opt for an outrageous woodland wedding...
Get married amidst neon signs...
Take the plunge on the edge of the ocean...
Tie the knot in a treehouse...
Kiss the bride in a canyon...
Exchange vows in an ancient temple...
...or seal the deal with a smooch under the sea.
Just look at this nautical nuptial...
This edgy desert affair...
This urban rooftop reception...
...and this badass elopement in the outback.
You can't go wrong with an epic safari ceremony...
A dreamy castle backdrop...
A charming city soirée...
A glacial extravaganza...
A breathtaking waterfall wedding...
...or a ceremony that makes you feel like you're on top of the world.