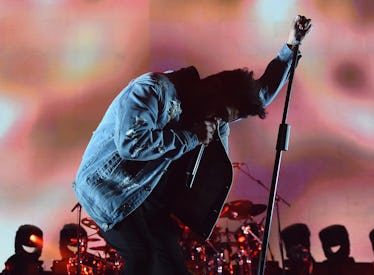 The Weeknd Deleted All His IG Pics Of Selena Gomez, So You Know It's Really Over
Theo Wargo/Getty Images Entertainment/Getty Images
If you were still hanging on to hope that The Weeknd and Selena Gomez were going to get back together, you can let go now. The pair is officially-officially over. The Weeknd deleted photos of Selena Gomez from his Instagram, which is basically the modern-day equivalent of throwing all the things she left at his house off of a bridge. He also unfollowed quite of few of Gomez's friends and family members, so it's safe to finally say that's a wrap on this relationship.
In October, news struck that the two famous musicians were calling it quits. At the time, sources sited things like their busy schedules and independent careers as the main reasons. However, since the breakup, both Gomez and The Weeknd have kind of been all over. They've even been photographed jumping into new flings and hanging out with old exes.
Gomez was the first to make some odd moves when she rocked The Weeknd's jacket just a few days after breaking up, and then sported ex Justin Bieber's jersey a few days later. Of course, we now know that Bieber and Gomez are in the process of rekindling their old flame, but at the time we were all like, "Huh?"
Gomez was also spotted at one of Justin Bieber's hockey games in mid-November, and photographed leaning over the guard wall to kiss him. If The Weeknd deleting her photos isn't your confirmation that they're over, then let it be Gomez kissing another man.
Before they called it quits, a source told Entertainment Tonight that Gomez maintaining a friendship with Bieber did not affect her relationship with The Weeknd.
At the time, the source said,
Selena is still with The Weeknd, and she only sees Justin as a friend. Selena is the one who got Justin involved in this church. It was her attempt to help turn his life around, and it really did help. He's really committed to it and has formed a strong network. So, they have a lot of mutual friends now from that.
Right, right, right. Sure, sure, sure.
The source added that Bieber was just one of many on a list of old friends Gomez was making an effort to reconnect with. They said,
Now she's more mature and confident — and so is he — and they can hangout without any drama. Given everything she's been through with her health, it's not surprising that she's making an effort to reconnect with people and to make amends. She knows how precious life is and doesn't want to waste any time with negativity. She recently connected with Demi [Lovato] and is at peace with Justin. She's got a whole new outlook.
... and that outlook does not include The Weeknd.
For his part, Abel was immediately videotaped dancing with other women, and very recently caught sneaking out of ex Bella Hadid's New York City apartment.
Hadid and The Weeknd broke up almost a year ago exactly, and had their first reunion on the 2016 Victoria's Secret Show runway. It was intense, to say the least.
Around then, Hadid spoke with Teen Vogue about her feelings for The Weeknd. She said,
When I love somebody, I love them with my whole heart. It was my first breakup—or second, next to the horse—and so public... As an outsider, you might think I handled it so well, but it's always in your heart, and you always feel it very heavily.
I know. It's a lot to consider.
One thing is for sure, for The Weeknd, it's pics or it didn't happen.
Check out the entire Gen Why series and other videos on Facebook and the Bustle app across Apple TV, Roku, and Amazon Fire TV.