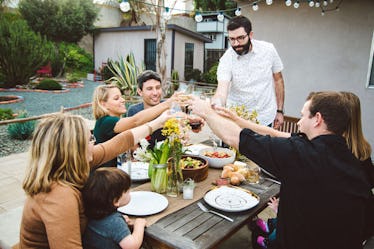 The 7 Types Of Relatives You Definitely See Every Holiday
Life's always a party when it comes to hanging with your family on the holidays. Whether it's Fourth of July, Thanksgiving, or even just a casual summer barbecue that happens every year, you can always expect the entire crew to show up ready to make some memories. Some of them will be there a bit early, when you haven't even finished getting ready yet, and others will roll in right before the food is done. Yes, you've known them all for a while now, so the types of relatives you see on holidays can easily be explained by their personalities. Get ready to say, "Same."
There's the cool aunt, of course, and your younger cousin who raids the closet of toys. Your grandparents stroll in and are excited to see everyone, and there's always at least one person who isn't connected to you all by blood, but is an honorary family member just the same. Even though you're basically an adult, you still sit at the "kid's table," just maybe now with a glass of wine. Someone with a camera will come around and grab a picture of you totally mid-bite into your burger. Whoops!
It wouldn't be a party without every single person in attendance. After all, you're quite the bunch, and everyone notices when your funny family member isn't around. You could probably explain exactly what everyone would do upon arrival at this point. These seven types of relatives make every holiday memorable, purely because of their personalities.