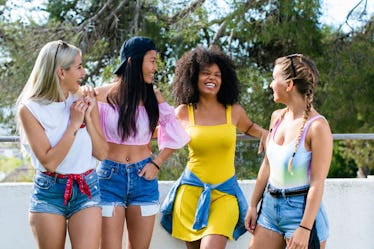 The 10 Types Of Coworkers You Definitely Have, No Matter Where You Work
You see your coworkers for a tremendous amount of time throughout the week — so much so, that you are able to hilariously pinpoint these people based on their workplace mannerisms. It's safe to say you've mentally categorized your coworkers, and the type of coworkers you have seriously make your job so much more entertaining.
Remember when you first started your job, and you had no idea who these people would turn out to be? Maybe you even asked the office veteran for a little heads up at first. Now, you can time that late coworker to a T, almost pee your pants laughing at your cubemate's jokes, and you know who's most likely to fall asleep without anyone noticing. You honestly couldn't imagine your weekly routine without these unique people in it, and I'm sure many people can relate.
Yes, that peppy morning person is handling those early morning hours with complete ease in offices all across the world in different time zones. Just thinking about that makes you exhausted. Again, you don't really know your job without anticipating these naturally funny qualities your coworkers have. So, if your 9-to-5 is seriously a range of different personalities, you've definitely assigned at least one of these 10 descriptions to your coworkers.