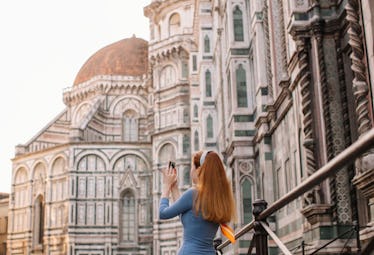 Why Every Traveler Needs To Put Down Roots In A City Abroad At Least Once In Her Life
Get your passport stamped, and then stay awhile. Being a true traveler means that you've trotted around a lot of the globe already in your lifetime. You've checked countries off your bucket list, and have probably seen the Eiffel Tower in person. You haven't let yourself just daydream about places around the world, and made sure to leave a little bit of every paycheck out for another plane ticket. But, after a week or so of hanging in Italy or roaming around Spain, you always have to head home. Truth is, living in a city abroad is something that you should do at least once, because there's nothing quite as rad as saying you have roots in another land.
Imagine jet-setting off to London, just to hang in your own flat and never having to leave. You'd go grocery shopping during the week, and befriend the people who live nearby. In the morning, you'd catch the tube to work, and then possibly explore the city in the late afternoon. It'd be just like home in a way — but instead, you'd be on the best adventure yet.
Especially if you studied abroad for a semester, living in another country has probably crossed your mind. Sure, you'd have to figure out the streets and possibly learn a new language. These six things are why it's truly worth it, though.