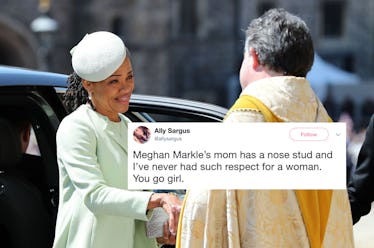 Meghan Markle's Mom Rocked A Nose Ring During The Royal Wedding & I'm Living For It
WPA Pool/Getty Images Entertainment/Getty Images
What would we do without our moms? The royal wedding of Prince Harry and Meghan Markle was seriously magical, but I can't help but wonder how boring it would've been if Doria Ragland wasn't in attendance. She graced the crowd with so much beauty from the second she arrived at the Cliveden House the day before the wedding with Markle. Let's be honest, she's not just any mom. She's a cool mom. People around the world tuned into the ceremony bright and early, and took to Twitter with all their wildest reactions. The tweets about Doria Ragland's nose ring, in particular, proved that this lady really rocks. Could we call her royal, too?
Markle went through a lot of family drama before the main event. There was all of the back-and-forth about whether or not her father would fly in. Even figuring out which British traditions would be upheld during the ceremony had everybody a bit stressed out. But, after watching all of the coverage, it was clear that everything worked out just right. The designer dress from French fashion house Givenchy stunned, and her tiara and veil truly stole the show.
Ragland's nose ring was just the sweet frosting on top of the royal wedding cake (filled with lemon and elderflower, of course!) Most people take out their piercings and the like when it comes to more formal situations, but Markle's mom decided to leave hers in and it was still classy AF. Meghan had hinted in the past that her mom is such a free spirit. Leave it to a nose ring to remind us all that we should just be ourselves and own it.
During the ceremony, the whole world was watching Meghan and Harry say the sweetest vows and exchange the rings. Ragland was sitting just to the side and tearing up throughout it all. Can we really blame her? We had our own personal box of tissues pretty close, and they came in handy especially when the choir sang "Stand By Me." Despite sitting on my couch in pajamas instead of a pair of sky-high pumps like Posh Spice, I could feel the love in the air in St George's Chapel. *Cue a couple of more tears.*
Markle's father wasn't in attendance, and Prince Charles walked the bride down the aisle in his place. Ragland arrived a few days earlier to the land of the Brits to meet her new royal in-laws, and have afternoon tea with the Queen of the United Kingdom herself. If I was her, I would've had all the nerves and been carefully eating scones while sipping on tea. (It's the Queen, you guys!) But, I have no doubt that she handled it so, so well — and likely rocked the nose ring while in the most regal company.
People took to Twitter when it came to all of their royal wedding feels. Some people chose to focus on making memes inspired by Pippa Middleton's look, and others spread some girl power thanks to Ragland's rather lovely nose ring. I'm living for it all, and rounded up some of the truly best reactions. Long live the cool moms in our lives.
If you were looking for another person to add to your shortlist of inspiring women, Raglan is the one.
When we grow up, we want to be like Meghan Markle's mom. Do you think that's a career path, or maybe a major in college?
Honestly, it's just happiness and love all around after this royal wedding (and nose ring.)
The entire day was stunning, right down to the flowers and fascinators. But, I'm hoping that nose rings make an appearance on the red carpets and runways, so that we never have to go without this look.