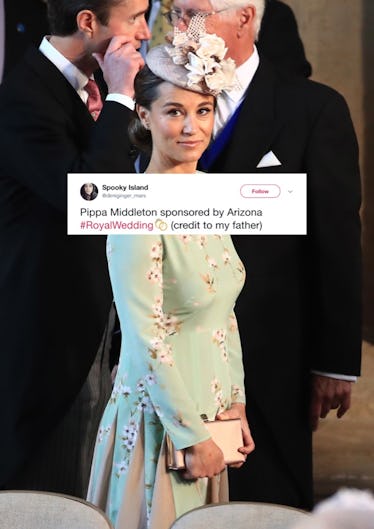 Twitter Is Trolling Pippa Middleton's Dress At The Royal Wedding For A Hilarious Reason
OK, so I know when it comes to an event as huge as the royal wedding, basically the entire world is watching, and that means everyone has something to say. In this day and age, whether you like it or not, commentary on any major event is best shared via tweets and memes. I'm sure there are plenty more memes on their way, but for now, this meme about Pippa Middleton's royal wedding dress is honestly too much for me to handle, guys.
Look, personally, when I first spotted Pippa Middleton in the crowd of royals making their over to St. George's Chapel at Windsor Castle, all I could think about how was much I loved her dress, her hat, basically her entire look. The floral pattern on her dress is totally gorgeous, as are the spring-themed colors she's rocking from head to toe. But of course, once any story makes its way through the Twitter universe, no matter how sweet, charming, or sentimental, memes upon memes are quick to flood in, whether you're ready for them or not. Honestly, though, nothing could have prepared me for this meme about Pippa Middleton's royal wedding dress.
I still can't decide if I love this meme or completely loathe it, but either way, Twitter's going all in on Pippa's dress right now.
It's one of those things you simply cannot unsee once the comparison's been made. Curse you, Twitter.
OK, the more I look at the two photos side-by-side, the more I see the similarities. I DEFINITELY HATE THIS, I'VE MADE UP MY MIND.
(Fine, yes, I chuckled a little bit, too.)
IDK Michelle, maybe she just really likes Arizona green tea! Doesn't everyone? Or are royals above that? Actually, come to think of it, they definitely have a higher standard when it comes to any kind of tea, so if Pippa is witnessing the influx of all of these memes on Twitter right now, she's probably shaking her head in total and utter disappointment.
Pippa, girl, I love your look, but I think you need to call your stylist ASAP and ask where they got their inspiration from, because this is looking more and more suspect with every meme I encounter.
Um, duh, OF COURSE Pippa wore it better! How dare you even suggest otherwise.
OK, hear me out: Is it Pippa Middleton that looks like an Arizona green tea can, or is it the Arizona green tea can that looks like Pippa Middleton? Come on, people, who's the REAL style icon here?
GUYS, OF COURSE SHE TRIED (to look exactly like a walking, talking can of Arizona green tea — sorry, I had to).
All jokes aside, though, I'm genuinely thrilled to see Pippa Middleton at the royal wedding.
For a while there, it wasn't confirmed one way or the other if Pippa Middleton would be attending Meghan Markle and Prince Harry's wedding. For the last several weeks, reports have been suggesting the 34-year-old British socialite may be pregnant with her first child, which only added even more mystery about her spot on the royal wedding guest list. Elite Daily has reached out to Kensington Palace for comment on Pippa's reported pregnancy, but did not hear back at the time of publication.
But if you recall, Meghan Markle came with Prince Harry to Pippa Middleton's wedding reception back in May 2017, so it would've been a little strange if Pippa decided to dodge this couple's nuptials.
To say the least, I'm thrilled to see her there, even if she does vaguely resemble a can of America's favorite green tea. It's fine, Pippa. You still look stunning, girl.