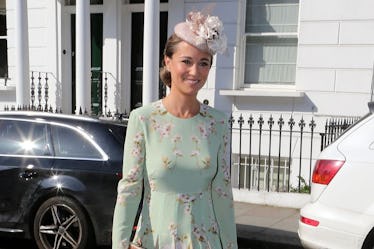 Pippa Middleton Just Arrived At The Royal Wedding & She Looks Absolutely Gorgeous
The big day is finally here, guys! The royal wedding is in full swing, and even though there's been so much mystery surrounding Prince Harry and Meghan Markle's wedding guest list, it's now clear Pippa Middleton is at the royal wedding. In the weeks leading up to this historic occasion, it seemed like we might not actually spot the British socialite among the crowd of royals, but lo and behold, Pippa Middleton has arrived at St. George's Chapel at Windsor Castle, and wow does she look absolutely stunning.
See, the thing is, Meghan Markle and Prince Harry made an appearance at Pippa Middleton's wedding reception back in May 2017, so it honestly would've been a little shady if she'd decided to dodge these nuptials. What's more, Prince George and Princess Charlotte have some adorable roles in the royal wedding today as page boy and bridesmaid, respectively, and it would have been a total bummer if their Aunt Pippa didn't get to witness all that royal cuteness in person, you know? And speaking of cute, I am living for the dress Pippa chose to wear for the big day.
I'm sure Meghan Markle will all but take my breath away once we see her walk down the aisle, but for now, I'm obsessed with Pippa Middleton's royal wedding look.
According to Daily Mail royal correspondent Rebecca English, Pippa's hat was designed by milliner Jess Collett, who has also reportedly designed headwear for the Duchess of York. Personally, I'm loving the soft colors of the whole look, including the pale pink flowers adorning Pippa's dress, which is also a lovely, soft shade of light green. *Heart eyes.*
FYI, if you haven't heard yet, reports have been circulating for the last several weeks that Pippa Middleton may be pregnant with her first child, which could explain, in part, why it was a bit of a mystery as to whether or not she'd make an appearance at the royal wedding. Elite Daily has reached out to Kensington Palace for comment on this, but did not hear back at the time of publication.
In case you need a quick refresher on who exactly Pippa Middleton is and how she's related to the rest of the royals, her last name should be a nice big clue: Pippa is Kate Middleton's younger sister, and her first big debut in the media spotlight was when she was the Duchess of Cambridge's maid of honor in her 2011 wedding to Prince William, the Duke of Cambridge. If you weren't watching those nuptials live all those years ago, or if you've only just gotten into the ~royal scene~ more recently, then you may not be familiar with the ridiculousness that unfolded online when the internet lost its mind over Pippa Middleton's "peachy posterior," as The Mirror described the viral story. *Eye roll.* Look, as far as I'm concerned, Pippa is a gorgeous, sophisticated woman from head to toe, and her royal wedding look today couldn't prove that more.
Not to mention her niece and nephew, Princess Charlotte and Prince George, are by far the snazziest-looking toddlers I have ever laid eyes on.
These two cuties, along with 6-year-old Master Jasper Dyer, 4-year-old Miss Ivy Mulroney, 7-year-old Master Brian Mulroney, 7-year-old Master John Mulroney, Prince Harry's two goddaughters, 3-year-old Miss Florence van Cutsem and 2-year-old Miss Zalie Warren — as well as Meghan Markle's goddaughters, 6-year-old Miss Remi Litt and 7-year-old Miss Rylan Litt, are all gracing our TV screens right now with their royally adorable chubby cheeks and on-point outfits, and I honestly can't handle it.
I know this day is about Meghan Markle and Prince Harry, but really, these youngsters are stealing the show, at least as of right now — which, in fact, is exactly what they did during Pippa Middleton's wedding in May 2017, too. I mean, come on — how could you not totally lose it over Prince George's perfectly proper short pants, or Princess Charlotte's darling sash? And when Kate Middleton was spotted shushing the little toddlers as they made their way into the church? Or when one of the other page boys decided he DGAF and picked his nose in front of thousands of people?! I can't, guys. Too much cuteness to handle. I know I'm not British royalty, nor do I believe I'll be marrying a British royal anytime soon, but if/when I ever do get married, I kind of want to steal this UK wedding tradition and swap the typical, adult bridesmaids and groomsmen for all my little cousins, and really any other toddler who's down to sit in a wedding venue for a few hours, hold a few dress trains, and casually pick their nose on camera, just for the LOLs.
Look, as long as none of these kiddos rub their royal boogers anywhere on Pippa Middleton's gorgeous outfit, it's all fine by me.