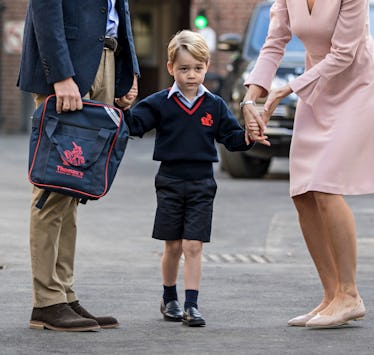 Prince George Will Play A Big Role In Meghan Markle & Prince Harry's Wedding & It's So Cute
WPA Pool/Getty Images Entertainment/Getty Images
The details of the royal wedding of Prince Harry and Meghan Markle have been trickling into the news for weeks now, and as May 19 approaches, the excitement from fans is only growing. Each new tidbit of information is quickly gobbled up in anticipation, but there's still so much we don't know for sure, like who's designing Markle's gown, or who might walk her down the aisle in the wake of all this family drama. But we just found out what I would argue is the most important detail of all about the big day: Prince George's royal wedding role. In case you were wondering, this tiny British chap will, indeed, be participating in the nuptials of his ginger-haired Uncle Harry and the soon-to-be-Duchess of Sussex, as a page.
On the morning of Wednesday, May 16, Kensington Palace tweeted that Prince Harry and Meghan Markle have officially chosen both the bridesmaids and the page boys who will participate in the royal wedding on Saturday, May 19. According to these new details, Prince George of Cambridge will be a page boy, among a whole bunch of other adorable youngsters who are slated to have their own roles for the big day. FYI, this won't be Prince George's first time at the royal rodeo, so to speak, as he was also a page boy in Pippa Middleton's royal wedding in May 2017, according to Vanity Fair.
In fact, Prince George was widely regarded as the wedding's biggest show-stopper on Pippa Middleton's big day last year. He is a cute, cute little fellow, no doubt.
What's more, instead of adult bridesmaids, Markle has decided to include only children in her bridal party, partially because, according to The Sun, a spokesman for Kensington Palace recently announced that the former Suits star "has a very close knit group of friends and did not want to choose one over the other." So, she's sticking with the tots, much like her soon-to-be-sister-in-law Kate Middleton did in her own wedding.
According to Kensington Palace's recent press release, there will be six bridesmaids in the royal wedding, all of whom are between the ages of 2 and 7 years old, as well as five page boys in total, who are all between 4 and 7 years old. While this might seem a bit strange to us as Americans, where we traditionally choose our (ahem, adult) closest loved ones and relatives to be bridesmaids and groomsmen in our weddings, Vogue reports this is actually a common, British wedding tradition that differs from traditional U.S. weddings.
Hey, I'm certainly not complaining. After all, it's probably going to make for some seriously darling photo ops at Prince Harry and Meghan Markle's wedding, don't you think?
As for the other kiddos who were lucky enough to make the royal cut, the rest of the page boys, aside from Prince George, will include 6-year-old Master Jasper Dyer, 7-year-old Master Brian Mulroney, and 7-year-old Master John Mulroney. And as for the tiny bridesmaids, there is, of course, 3-year-old Princess Charlotte, and following closely in her adorable footsteps will be Prince Harry's two goddaughters, 3-year-old Miss Florence van Cutsem and 2-year-old Miss Zalie Warren, as well as Markle's goddaughters, 6-year-old Miss Remi Litt and 7-year-old Miss Rylan Litt, and finally, 4-year-old Miss Ivy Mulroney will accompany the royal bridal party, too.
Now, I know it probably sounds like you're about to witness a giant, extravagant party filled with British toddlers this Saturday, but rest assured, there will be some adults in attendance at the royal wedding, too. For instance, Kensington Palace announced a few weeks ago that Prince Harry chose his brother, Prince William, as his best man (and William, of course, proudly accepted). However, as The Sun reports, this decision technically breaks tradition, since there's typically never a best man at a royal wedding.
But it's 2018, folks, and even the royal family likes to shake things up from time to time.
In fact, Prince Harry and Meghan Markle's wedding has broken with tradition in quite a few ways, as Glamour reports. For example, the outlet explains, the the royal wedding is happening on a weekend, when traditionally, these events are typically held during the week. Moreover, this Saturday's royal wedding will be hosted at the smaller St. George's Chapel, instead of Westminster Abbey, where Kate Middleton and Prince William celebrated their nuptials back in 2011.
Moreover, Glamour points out, Prince Harry isn't next in line for the British throne which, you know, probably has a lot of advantages. For now, the publication explains, it means Prince Harry isn't "expected to include all the dignitaries that his brother had to." In other words, Prince Harry won't have to invite political leaders like President Donald Trump or Prime Minister Theresa May to the event.
Does this mean the royal wedding after-party might get a little more ~wild~ without all of those buttoned-up dignitaries there to ruin the fun? Well, we certainly won't know until the big day itself, but I'm willing to bet the entire bridal party, as well as the page boys, will be fast asleep by the time it all goes down.