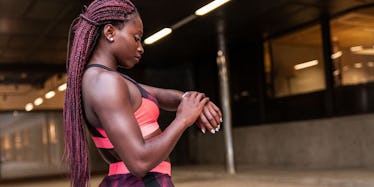 A New Survey Revealed The Top Fitness Trends For 2019, So Start Planning Your Goals
New year, new goals. Every Jan. 1, you have the opportunity to shed the old things that don't serve you and ring in a nice dose of new, growth promoting change. If you're someone who's all about taking advantage of that fresh, clean slate that arrives each January, you'll probably be interested to know all about the top fitness trends for 2019, and lucky for you, a new survey has revealed some of the biggest ones to watch out for.
The annual survey, which has been published in the November issue of the ACSM's Health & Fitness Journal, an official journal of the American College of Sports Medicine, included responses from over 2,000 health and fitness experts around the globe, according to ScienceDaily.
From personal trainers to cool tech gear, there are quite a few awesome fitness trends coming in hot for 2019. "While no one can accurately predict the future of any industry, this survey helps to track trends," Walter Thompson, PhD, FACSM, of Georgia State University, Atlanta, and Immediate Past-President of ACSM, said in a statement, as per ScienceDaily. "The survey was designed to confirm or to introduce new trends (not fads) that have a perceived positive impact on the industry according to the international respondent."
Here are a few highlights from the survey to help inspire some of your goals for 2019. After all, the new year will be here before you know it.