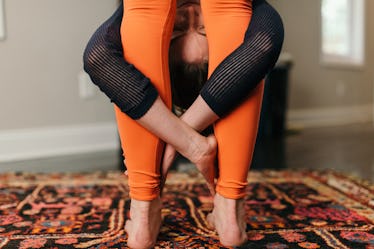 7 Fitness Challenges For The New Year That'll Show You What Your Body Can Do
The new year is comin' in hot my friends, and that means it's time to set some new goals and accomplish the crap out of them. If you've been slaying the fitness game in 2017, then you're probably already itching to find new ways to challenge your strength in the new year. And hey, even if you'll just be diving into the the world of fitness for the first time come Jan. 1, there are so many 2018 fitness challenges to choose from that aren't too intimidating or complex, and are sure to kick off your new year on the right foot.
Most of us know that new year's resolutions don't always stick, and that setting high standards for yourself, especially when it comes to working out, can be a recipe for disaster. The key is to create manageable, realistic goals that'll get your body moving in ways you'll actually look forward to, so that working out becomes a genuine hobby, not just a temporary trend you latched onto on a whim.
Fitness challenges and programs are a great way to help you stick to those workout resolutions, as they're often really effective in holding you accountable to your workout routine, and they provide an incentive to throw on your Lulus and lace up your sneakers a few days each week.
Even if you're already a seasoned fitness fanatic, don't underestimate the power of a good ol' fitness challenge, even if you find one from some random YouTuber. These challenges are all meant to be as easy or as difficult as you make them, so sweat accordingly.
As 2018 approaches and you're preparing to crush your workout goals, here's a list of seven fitness challenges that will help you see what that beautiful body of yours is truly capable of.