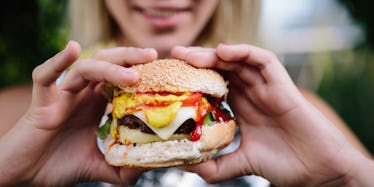 5 Annoying Things That May Happen To Your Appetite When Mercury Is In Retrograde
Mercury's wrath has spared pretty much nothing and no one during its latest retrograde period. And with just a little over a week to go in the final Mercury retrograde of 2017, you've probably already experienced many of the lovely (not) effects that this planet bestows upon all of humanity. Personally, I've been feeling unstable and imbalanced AF for the past few weeks. Plus, I've been craving the weirdest food lately, so I honestly can't help but wonder how Mercury in retrograde affects your appetite.
Good ol' Mercury can affect nearly everything in your life, from your sleep schedule, to your communication skills, to your mood, but I never knew this powerful little planet could have such a pull over your palate, too.
Alas, essentially all aspects of your mental and physical health are affected in some small way by each retrograde, so yes, that includes cravings, food decisions, and maybe even gut issues.
So, if you've been tempted to eat an entire roll of raw cookie dough every night since the retrograde began, or you feel like you've been racing to the bathroom far too often even though your diet has remained pretty standard, take some comfort in the fact that nothing's "wrong" with you; Mercury is very likely the culprit behind it all. Here are five ways Mercury's retrograde period could be messing with your appetite.