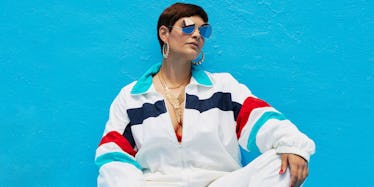 This New Platform Can Help You Find A Body-Positive Fitness Trainer In Your Area
It can be tricky to find a personal trainer who has the right approach to fitness — someone who will support your own personal wellness journey and ideologies. What I mean here is that finding someone who aligns with all of your body positive goals (aka someone who prioritizes performance over appearance) can feel a little like swiping through duds on a dating app. Like, will you ever match with a diamond in the rough? Fortunately, Superfit Hero's Body Positive Fitness Finder is here to smash diet culture and transform the fitness game by making it so easy to find an amazing trainer in your area.
So what is the Body Positive Fitness Finder? According to a press release sent directly to Elite Daily, it's essentially a huge, easily searchable, online directory of body positive fitness trainers and communities, created by Superfit Hero, a Los Angeles-based activewear brand known for being exceptionally inclusive. With performance leggings that range from size XS to 5XL, Superfit Hero is really changing the athleisure game. And now, the brand is taking things a step further by ensuring that anyone can immerse themselves in healthy, functional, and genuinely fun fitness, with body positive trainers and communities who understand your goals better than anyone.
As per the brand's press release, "the majority of the fitness industry remains steeped in diet culture where calorie restriction is encouraged and exercise is prescribed as a punishment for eating." Superfit Hero's Body Positive Fitness Finder seeks to change that warped view of "health," because the thing is, exercise should make you feel amazing both inside and out, and should never be thought of as a "punishment" in any way, shape, or form.
Fortunately, things are (slowly but surely) changing in the online fitness community. Body positive influencers are popping up all over social media, shifting the culturally-deemed "acceptable" standards of beauty and strength. You can't deny that these accounts are gaining a pretty huge following, which seems to imply that, finally, more and more people are beginning to look at their workout routine as something that rewards them, rather than punishes them.
With themes of joy, community, and empowerment taking over the online fitness space, the Body Positive Fitness Finder couldn't have come at a better time. Movement is finally starting to be "celebrated for how good it feels and for the physical and mental health benefits available to all body types," according to the brand's press release.
"We created the Body Positive Fitness Finder to connect [our customers] to [body positive fitness trainers] and to help steer the fitness industry in this more positive direction," Superfit Hero founder Micki Krimmel explained in a statement for the press release.
And that's exactly what Krimmel and her team at Superfit Hero are doing. Every single one of the trainers and communities listed on the Body Positive Fitness Finder stand for nothing less than complete inclusivity and acceptance of all bodies, regardless of gender identity, size, or athletic ability.
TBH, I'm already on their site searching for a community in my area, and I'm low-key in love. Plus, if you're a trainer or a gym that's interested in being included in the Body Positive Fitness Finder, you can apply on the Superfit Hero website — and, truly, this is one community that can never be too big.