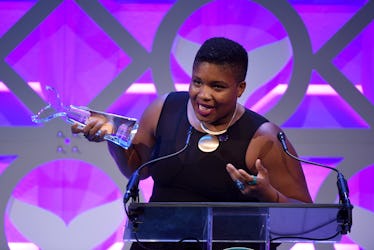 10 Body-Positive Instagrammers To Follow In 2018 For More Self-Love & Less BS
Noam Galai/Getty Images Entertainment/Getty Images
With the arrival of the new year, discussions of diet culture and unrealistic beauty standards are at an all-time high right now, and it can be easy to get down on yourself and feel overwhelmed. While there is, admittedly, a ton of BS to trudge through on Instagram, the platform can still be an incredible tool to help boost your confidence and make you feel like the goddess that you truly are. Once your social media feed is filled to the brim with body-positive Instagram accounts, and you've unfollowed all the toxic nonsense, you'll be ready to kick off your 2018 feeling your absolute best.
Being able to love your body unconditionally is a journey that everyone is pursuing together, and it's rarely ever an easy one. So many social media accounts send the wrong message to their followers, posting snapshots of only the most picture-perfect moments, and never portraying, well, real life.
Thankfully, there are a few diamonds in the rough that will inspire you to celebrate every single part of your beautiful self, without even a single stroke of fancy re-touching. These 10 women accept and love the sh*t out of themselves, and at the same time, they're down to get real AF with you when they're not feeling their best, because we all go through those moments. Add these accounts to your Instagram feed in 2018 for all the body-positive vibes you've been looking for.