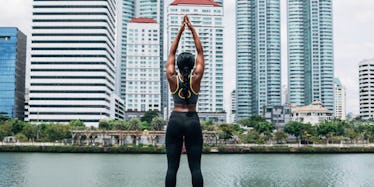 The 7 Best Apps To Download If You've Fallen In Love With Your Yoga Practice
In a perfect world, you'd have a yoga studio around the corner from your apartment or office, and you'd leisurely hit up your favorite class every single day. Unfortunately, though, things like time, budget, and, you know, life's unpredictable shenanigans in general, tend to get in the way of such dedicated plans — but that doesn't mean you have to neglect your yoga practice altogether when you can't make it to an actual studio. When you're in a pinch, the best apps for yogis are the ones that let you flow, breathe, and ground yourself whenever, wherever.
When you first start out as a yogi (and even if you're a more advanced practitioner), it's definitely nice to have a teacher guiding you with hands-on adjustments and tips IRL in the studio. But, honestly, these apps are so informative and user-friendly that you won't even feel like you're missing much on those days when you decide to practice at home.
These seven apps will not only support your physical yoga practice, but they'll also help to ground you mentally with things like meditation sessions. Some of these apps focus on more challenging, workout-based flows, while others allow you to explore your Pranayama practice more deeply with guided breathing practices. Either way, these apps are sure to enhance your unconditional love for all things yoga.