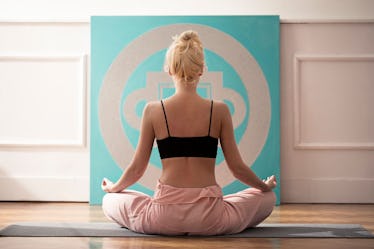 This Yoga App Now Offers A Mental Health Series & It's Such A Therapeutic Way To Work Out
Taking care of your mental health should always be a priority, regardless of who you are, but that doesn't always have to translate to traditional therapy, depending on your circumstances. A regular workout routine can be an incredible way to practice self-care, and yoga in particular uses meditative breath and movement to help you stay centered during times of stress. Of course, there are literally tons of online classes and apps nowadays that make the practice super accessible, but the Yoga Studio app's new Yoga For Mental Health series should definitely be on your radar if you're looking for something to help you unwind after a long day.
Alia Sebben, founder of Amana Yoga in Boulder, Colorado, created this series for the app after realizing just how much yoga has helped her in her own mental health journey. "This project is so close to my heart simply because yoga has been my number one tool in reliving the sometimes debilitating anxiety I've experienced throughout my life," she wrote in a recent Instagram post. "It's supported my healing from addiction and held me in bouts of depression."
The mental health series on the Yoga Studio app includes classes like "Restore from Burnout," "Yoga for Stress and Anxiety," and even a Yoga Nidra session to really help you relax.
"[These sessions] make you feel more calm and relaxed because we use breathing techniques, such as diaphragmatic breathing (also called Ujjayi breath) that help to take us out of the sympathetic nervous system," Sebben tells Elite Daily. Your sympathetic nervous system is responsible for your body's fight-or-flight response, and while you're immersed in one of these yoga classes, Sebben adds, your body slowly moves into your parasympathetic response (also known as "rest and digest"), and pretty soon, you feel completely safe, relaxed, and at ease from head to toe.
As you follow along with the breathing techniques during the classes, Sebben says, your inhales and exhales will help shift the focus from your mind and whatever may be causing you stress, to your physical body in the present moment.
According to Sebben, yoga is one of the few things in life that can immediately help you find balance and a sense of calm when it feels like the stress inside your mind is all but consuming you.
While the Yoga Studio app itself is free to download, the new mental health series will cost you $1.99 per month, though you do have the option of a free 14-day trial if you're not ready to commit to the monthly payment.
If you don't have access to the app or a local yoga studio, however, that's totally OK. Sebben says a super easy way to de-stress on your own is to simply go for a walk (she personally likes to go barefoot) and leave your technology at home. "This is called grounding," she tells Elite Daily. "Try to match the pace of your walk with your breath."
She also recommends practicing "legs-up-the-wall" pose when you need to ground yourself and find some peace. For this asana, scoot yourself up against a wall and slide your legs right on up there, creating a 90-degree angle with your body. "This posture is like the forward fold — a gentle inversion that helps to regulate blood pressure and leaves you feeling overall wonderful," Sebben says.
Whether you try these simple grounding methods on your own or download the Yoga Studio app to experiment with the new mental health series, Sebben says the most important thing to remember is that yoga teaches you "how not to be a slave to your thoughts," and to always live life in the present moment.
"It may sound like a tall order, but by focusing on your breath right here, right now, in this very moment — you are connected to the now," she tells Elite Daily. "Take 10 rounds of deep inhales and exhales and notice the difference of how you feel before and after."