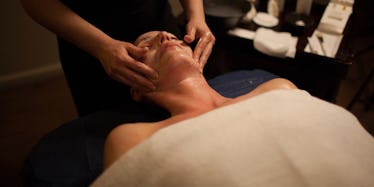 ClassPass Is Offering A Whole New Set Of Features Focused On Self-Care & You'll Love It
Finding time for self-care can be pretty challenging when your schedule is busy AF, but recently, more and more people have realized the true power behind a little bit of TLC. The thing is, though, once you actually decide to go ahead and treat yo'self, where do you even begin? Everything from massages to spa days are often way too expensive, and there are just too many options out there to know what's actually worth it. If you're a little lost, ClassPass' new features might just be the perfect place to start, my friends.
If you've never heard of ClassPass, it's basically just an app that you can get a paid membership to, which will automatically connect you with the world's largest fitness network. Once you have your membership, you can browse through hundreds of studios in your area that partner with ClassPass, and you have the freedom to attend any workout classes of your choice each week. From relaxing yoga flows, to intense cycling classes, to demanding strength-training sessions (and so much more), it's a pretty good time, guys. ClassPass even recently started offering live-stream workouts — you know, if you just don't want to leave your house, like, ever. Bless you, ClassPass.
But get this: ClassPass just revealed they're expanding their app beyond fitness, and the service will now offer beauty and wellness experiences for the best kind of self-care.
According to a press release sent to Elite Daily, starting this week, a subset of current ClassPass users will be allowed access through their current subscriptions to new wellness experiences ranging from "massages, facials, cryotherapy, float spas, infrared saunas, acupuncture," and more. Assuming the trial period is a success, the app will then be looking into expanding the self-care services even further. I mean, float spas and infrared saunas already sound pretty freaking wild to me, but who am I to deny even more blissful TLC, amirite?
In the press release, ClassPass explained that introducing a more diverse selection of experiences is the perfect way to encourage members to go beyond physical exercise, and expand their wellness routines to include other, equally-as-important parts of healthy living. ClassPass CEO Fritz Lanman said,
Expanding into wellness has been on our radar for some time. Our users are a health-conscious group looking to discover high-quality experiences at the best possible value. They crave more than just physical fitness and as trailblazers in the space, it's our role to create an inclusive business model that encompasses wellness while continuing to introduce users to new experiences.
ClassPass already connects its members to over 8,500 gyms and fitness studios around the world, but their goal is to flourish beyond these numbers and provide people with simpler access to bettering both their physical and mental health.
After all, if we're being real, it's sometimes easy to let the importance of self-care slip under the radar, especially when you're committed to a regular workout routine. Rest days are just as important as training days, so why not make the absolute most of that downtime by pampering the crap out of yourself?
As far as what these new features can truly offer you, the acupuncture clinics that are being made accessible through ClassPass can help with much-needed muscle recovery, realigning the body's energy channels, and even relieving chronic pain. And if you've never heard of cryotherapy, it's a wild type of physical therapy that involves submerging your body in freezing cold temperatures to treat sore muscles and promote muscle recovery.
Per the company's press release, Payal Kadakia, founder and chair of ClassPass, explained the benefits of these unique experiences:
Our mission at ClassPass has always been to motivate people to lead inspired lives by connecting them to soul-nurturing experiences. Access to wellness services will help our users live their lives more fully.
Kadakia said that it's always been ClassPass' goal to offer more for their users than just workout experiences, "because fitness is only part of the equation that contributes to health and happiness." She continued,
We're thrilled to offer ClassPass members even more opportunities to connect with experiences they love.
The company's test is currently allowing only a select few users to reserve these experiences as part of their current ClassPass subscription, at no additional cost. After that, ClassPass will begin to expand their #selfcare platform to all members, and honestly, I am so, so pumped.