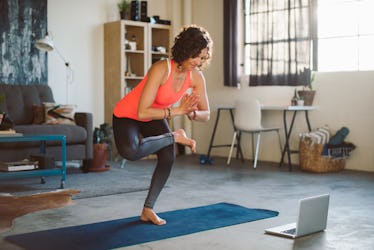 ClassPass Is Coming In Clutch With An Awesome Surprise In 2018, So Get Pumped
Confession: There have been many, many times that I've skipped out on a sweat sesh solely based off of the fact that I did not want to put on pants. Am I proud of this? Not exactly. But pants suck, and the thought of putting them on really doesn't motivate me to go do burpees in any way, shape, or form. But fortunately for me, ClassPass live stream workouts are coming in 2018, which not only means I don't have to put pants on when I exercise, but I don't ever have to leave my house, either.
If you don't know what ClassPass is, it's basically an electronic gym membership that lets you get your sweat on at a variety of fitness classes all over your city. It's awesome because it totally takes the monotony out of routine workouts by letting you experiment with different studios and types of exercises, depending on your mood and what you feel like doing.
But, again, pants are required in public, and that's just not my jam. And if you want me to shut up about my aversion to pants now, let's instead talk about how many times you've wanted to go to a killer workout class, but you just missed it because of traffic or a delayed subway.
ClassPass is here to solve all of our #FirstWorldProbs by offering live-streamed workouts starting in early 2018.
ClassPass Live will essentially offer as realistic an experience as if you were at an actual studio, but the perk is that you can do the workouts literally wherever you want. Plus, ClassPass Live is striving to make your sweat sessions really interactive, too, by including a heart rate monitor that can track your heart rate in real time. If you're low-key competitive AF, this could be right up your alley. But, if you want to ignore this particular feature and simply do your thing, that's cool, too.
Honestly, this community-based fitness feature couldn't have come at a better time, because 'tis the season to be thinking about your new year's resolutions, and ClassPass Live is making it way more appealing and accessible to reach your workout goals for 2018.
According to U.S. News Health, around 80 percent of new year's resolutions crash and burn by the second week of February. And TBH, I don't blame people at all. Gyms are aggressively crowded during the month of January, it's cold as hell outside, and when you're first starting out with a fitness routine, it can be overwhelming to figure out where and how to start. But the fact that ClassPass is planning on providing a service that's totally comprehensible, approachable, beginner-friendly, and easy to access, that's bound to make fulfilling fitness resolutions in 2018 that much easier.
ClassPass will offer high-intensity cardio workouts, and may expand to include yoga, pilates, and other forms of fitness later on in the new year.
While high-intensity interval training (otherwise known as HIIT) might sound intimidating at first, it's actually great for all levels of fitness because it provides the maximum amount of workout benefits in a much shorter amount of time. Plus, HIIT cardio is amazing for heart health, it helps build muscle, and it's challenging AF (in a fun way, I promise). And with ClassPass Live bringing the workout right into the comfort of your own home, there's literally no reason not to give it a try in the new year.
If you already have a ClassPass account, you'll have to subscribe to the new live-streaming service for $10 a month. But if you're just getting started with a membership, it'll be a $15 subscription fee. Oh, and you'll also probably want to invest in the starter kit they have, which includes the heart rate monitor and a Chromecast (which lets you stream all of the kickass workouts up on your TV).
Keep in mind, there's a wait list to sign up, so if you're interested in trying the new feature, you should definitely hop on it ASAP! Or, better yet, put it on your wishlist for someone else to give you the gift of fitness. It's one less thing for them to worry about with holiday shopping, right?