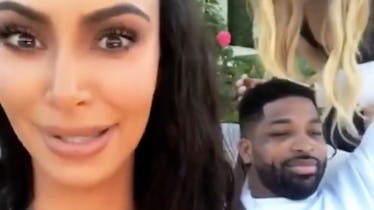 Kim K Explained Why She "Had To" Confront Tristan Thompson Over Blocking Her & It's Touching
Instagram / Kim Kardashian
Sometimes I'm torn between wondering whether there is anyone faker than the Kardashians or if there is anymore more real than the Kardashians. You guys know what I mean. Everyone has to admit, this family has kept the world engaged, interested, and either secretly or not-so-secretly aggressively nodding along with their conversations, challenges, and conflicts from their couches at home. That's how I felt when Kim Kardashian called Tristan Thompson out for blocking her at her sister Khloé's birthday. The reason Kim Kardashian confronted Tristan Thompson about blocking her is honestly pretty straightforward and somewhat touching. For the Kardashians, family comes first. That means if Kim's younger sister decided to stay with her boyfriend after he allegedly cheated on her, then she was going to find a way to make things right. Or, ya know, at least make things entertaining.
As we all know, Thompson was caught allegedly cheating on Khloé Kardashian with multiple women. Elite Daily reached out to Thompson's team about the allegations previously, but did not hear back by the time of publication. Kim was the first family member to go on the record about the scandal telling family friend Ellen DeGeneres it's just "so f*cked up." Since then, Khloé has made it clear she and Thompson are going to try to make things work for their daughter, True, which in Kardashian-land means everyone better get on board. Of course, the reconciliation came after Thompson unfollowed many of Khloe's family members on social media, including Kim.
On Khloé's 34th birthday, Kim filmed a hilarious Instagram story with Thompson asking him if he would unblock her as a gift to Khloé. The video is pretty fun and also seems pretty authentic. Thompson takes Kim's request in stride, and for now, it seems all's well that ends well. Here's Kim's video:
Extra caught up with Kim at her KKW Beauty Pop-Up Shop in the following days where she talked about the decision to confront Thompson. Kardashian told the publication she just "had to!"
She explained,
I did [the video] just spur-of-the-moment. I thought about it, I was like, 'Wait a minute, you have your phone out and this is really awkward 'cause you blocked me,' and, 'What's up? We're all in the same room again, can I get a follow, can I get an unblock at least?'
She admitted Thompson didn't know it was coming. "I had to do it, I had to," she said.
She then elaborated on her family's rule about the importance of finding and maintaining peace in their relationships. "I was just raised, you know, that blood is thicker than water and family first," she said. "That's also what keeps us sane." Kardashian continued, "When we have those family dinners and we just get to hang out and be together through all the craziness that we've been through, we love each other and support each other, so it's always just fun to be together and no matter what we'll support each other, and we know that."
Kim also shared a rare no-makeup photo with her little sister Khloé and their two newborn babies, Chicago and True, for Khloé's birthday. Kim captioned the photo:
Happy Birthday to one of my favorite souls on this planet! @khloekardashian This year you have shown strength like none other. I admire you for always following your heart. I love seeing you as a mom and can't wait for the years ahead. Let's celebrate you today! I love you to infinity!
Kylie also dedicated a touching birthday speech to her sister, which Khloé caught on tape. In her short but sweet message, Kylie said, "I truly give you [Khloé] all the credit for who I am, for who I've become."
Say what you want, but this family sticks together through thick and thin. And, Tristan too. I guess.
Check out the entire Gen Why series and other videos on Facebook and the Bustle app across Apple TV, Roku, and Amazon Fire TV.