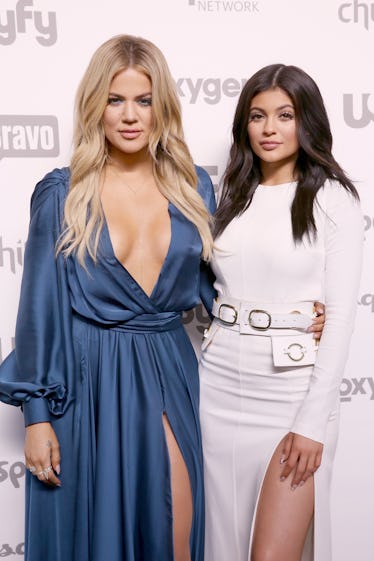 Kylie Jenner's Speech At Khloé K's Birthday Party Was So Emotional & Now I'm Crying
Robin Marchant/Getty Images Entertainment/Getty Images
Sometimes, all it takes is a little sibling love to get you feeling good about life again. I've been having ~a day~ over here dealing with the reported breakup of Sam Smith and Brandon Flynn, but luckily, the Kardashian krew have come to the rescue, bringing me some good vibes and sweet words in honor of Khloé Kardashian's birthday. As you all know (unless you're not a Kardashian fan, which, let's be real, of course you are), it was our girl KoKo's birthday on June 27, and she celebrated in style with her family and friends surrounding her. But the video of Kylie Jenner's speech at Khloe Kardashian's birthday party is hitting me right in the feels, and makes me wish my invite to the shindig didn't get lost in the mail.
At one point during Khloé's birthday bash, new mom and Keeping Up With The Kardashians star Kylie Jenner provided a really touching toast for her sister. The video, which was uploaded to a Kylie Jenner fan Instagram account, shows Kylie (looking fantastic just months after giving birth, BTW), standing up to say a few quick words about her sister. She said,
Khloé, I've known you since I was born. You're my sister. And I truly give you all the credit for who I am, for who I've become. You give me my crazy… wait, this isn't about me. Happy birthday, I love you!
That moment when you see Kylie Jenner's eyes glistening, and the rest of the room trying not to cry? That's #ToastGoals right there, my friend.
But the best part is at the end when Jenner says, "And that's all. That's really all," and Khloé shrieks, saying, "Oh my God, that's all I need!" before raising a glass to commend her sister for that heartwarming little speech. Beyond adorable.
I love that Kylie Jenner wasn't the only sibling to express her love for Khloé on her birthday, though — Kim K took to Twitter to share a birthday message for her KoKo also. She uploaded a photo of herself with Khloé holding Chicago and True, and I nearly fell over. The photo is SO GOOD, you guys. But the caption that Kim posted alongside the pic was even sweeter. She wrote,
Happy Birthday to one of my favorite souls on this planet! @khloekardashian This year u have shown strength like none other. I admire you for always following your heart. I love seeing u as a mom & can't wait for the years ahead. Let's celebrate you today! I love you to infinity!
When did the Kardashian-Jenner family become such wordsmiths? Should I be worried about my job right now?
Won't stop typing, ever, for fear of getting replaced by a Kardashian.
However, a warm and touching sentiment was notably missing from boyfriend, Tristan Thompson, who didn't post a birthday message for Khloé Kardashian — you know, the woman whom he shares a beautiful child named True with. Fans dragged him pretty hard on Twitter about not wishing Khloé a happy birthday on social media — but he did end up unblocking Kim Kardashian on Instagram, so at least there's that?
At Khloé's birthday party, Kim posted a selfie video (that's now basically iconic) of her with Thompson, saying, "Alright guys, so, what do you think? It's Khloé's birthday, do you think I should ask this guy to unblock me?"
Thompson responded, "For Khloé's birthday, I think it's only right." In another video, Kardashian showed Thompson literally hitting the "unblock" button, where you hear her saying, "I'm unblocked, guys!"
Who really knows if that's what Khloé wanted for her birthday or not, but at the end of the day, family and friends putting aside their differences and celebrating doesn't sound all too bad.