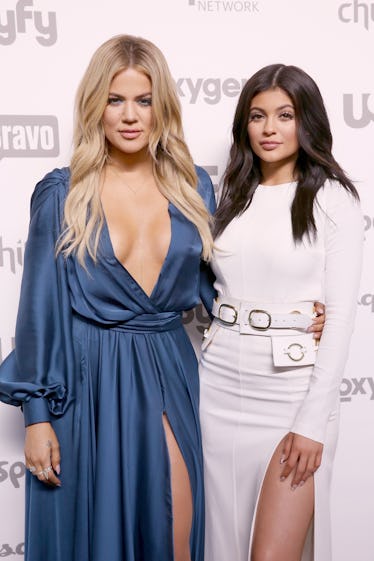 Khloé Kardashian Commented The Sweetest Thing On Kylie Jenner's Pic With Stormi
Robin Marchant/Getty Images Entertainment/Getty Images
In case you haven't heard, Kylie Jenner is currently on a glamorous family vacation with beau Travis Scott and their daughter Stormi Webster. The family of three traveled down to Turks and Caicos for Scott's birthday and, if Jenner's Instagram is anything to go by, they're all having the time of their lives. She's posting so many photos of their awesome vacation that even her sisters can't keep up with all the cuteness. Big sis Khloé Kardashian is following along on Instagram as best she can. Actually, Khloé Kardashian's comment on Kylie Jenner's photo with Stormi is really adorable.
The photo, which was posted to Jenner's Instagram on Wednesday, May 2, shows Jenner dressed down in an all white bikini with a mesh two-piece over it. In the pic, she's holding little Stormi, who's also dressed in all white.
Beneath the photo, Kardashian left the this adorable comment:
Both of my cuties!!!!!
So much sisterly love going on there! Love it! Kardashian also recently gave birth to a daughter of her own named True on April 12. So, Stormi's got a little cousin that she'll be able to play with when they're a bit older!
For the vacation photos, Jenner opted for a fresh-faced look. No makeup in sight, which is rare for the cosmetics mogul! Jenner's boyfriend Scott isn't featured much in the photos, but you can bet he was right there snapping these adorable pics just for Jenner and Stormi. So cute!
Even more cute is how big Stormi is getting. She's also got her own style thanks to her mama. The baby just turned three months old and, already, she's sporting some really adorable outfits. Love it!
Here's how Jenner, Scott, and Stormi are spending their days...
The family is out on the island of Turks and Caicos to celebrate Scott's birthday, which was on Monday, April 30. The rapper and songwriter turned 26 and rang in his birthday with a huge bash at Six Flags in Los Angeles on Sunday, April 29.
Jenner rented out the park, so Scott could enjoy his birthday with friends and family in private. Most of the Kardashians were there, including Kim and Kourtney as well as Kendall Jenner and Kanye West. It was basically a star-studded affair and it seems like a great time was had by everyone!
Jenner even posted videos of the day to her Instagram story:
They're such a cute family even in cake form! Unfortunately, little Stormi couldn't be at Six Flags with the rest of the fam (for obvious reasons!), but Jenner really wanted to include her in Scott's birthday celebrations. The cake was the perfect way to do it. And super clever, too!
Both Jenner and Scott seem deeply devoted to fortifying their family unit and are spending as much time together as possible, hence this incredible beach vacation.
In recent days, there have been reports from People magazine that Scott is really stepping up his game as a dad. A source told the magazine that he's taking this role very seriously:
Kylie and Travis are doing well. They are a great family. Kylie is very in love with Travis. He is an amazing dad and loves spending time with their daughter. He has very much stepped up.
According to the unnamed source, Scott is also shifting his focus away from music to concentrate on being with his family:
He hasn't been working much and is instead focused on spending time with Kylie and Stormi.
Which, of course, is really awesome. Looks like this little birthday vacation was a necessary break from the everyday grind, especially now that family is such a central part of both Jenner's and Scott's lives.