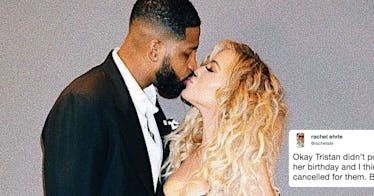 Fans Are Pissed At Tristan Thompson For This One Thing He Forgot On Khloé's Birthday
Instagram/KhloeKardashian
June 27 was a pretty special day for one particular Kardashian. Our girl Khloé celebrated her birthday and had a ton of friends, family, and fans all wish her a spectacular day, because she deserves it. But it looks like not everyone wished her a happy birthday for her and the whole world to see, and I truly am taken aback. In case you haven't guessed who yet, Tristan Thompson didn't post a birthday message for Khloé Kardashian and it's making me confused and annoyed. Clearly, I'm not alone with my feelings either, because a lot of fans are taking to social media to express their disappointment with Thompson's lack of celebratory media posts.
But let's just talk about the heroes of the story first, because they deserve a standing ovation. Sister Kim K took to Twitter to share an adorable birthday message for her sister, and also the cutest photo of her sitting beside Khloé, Chicago, and True that I've ever seen in my entire life. She wrote,
Happy Birthday to one of my favorite souls on this planet! @khloekardashian This year u have shown strength like none other. I admire you for always following your heart. I love seeing u as a mom & can't wait for the years ahead. Let's celebrate you today! I love you to infinity!
LOOK AT THOSE BABIES! They are too precious and pure for words, and honestly, I'm going to need a minute to recover.
And, like any good mom, Mama Kris Jenner shared the ultimate throwback on Instagram of herself and Khloé, back when KoKo was a backpack-wearing little kid holding hands with her mother. Jenner's message was beyond thoughtful to her daughter. She wrote,
Happy birthday to my bunny @khloekardashian!! Beautiful, smart, kind and the strongest person I know, you amaze me every single day. You are truly an angel on earth, my beauty, and I am so proud of you. You bring laughter and love to everyone around you. You lift people up with your positivity and your passion. This year we celebrate you being a new mommy, and all the amazing blessings that brings. To watch you with baby True brings me the greatest joy. I love you to the moon and back!! You deserve the world. #HappyBirthdayKhloe
BRB, weeping.
So if you're thinking, "Wow, all of these beautiful messages! I can't wait to see what Tristan Thompson wrote to his girlfriend and mother of his child!," then I've got some bad news for you. There was no message. Zip. Zero. Zilch.
I'm sorry, but excuse me?
This could have been his chance to show the world that he's really going above and beyond for Khloé. After Thompson's reported cheating scandal shocked the world back on April 10, when video footage of Thompson seemingly kissing other women was released by both The Daily Mail and TMZ, it's been a long road for fans of Khloé to find it in their hearts to forgive the NBA star. Elite Daily reached out to Kardashian and Thompson's teams at the time for comment on the reports, but did not receive word back. Instead of a sweet, loving birthday message to his one and only, he decided to unblock Kim Kardashian on Instagram — so perhaps that was his birthday gift to Khloé?
Either way, fans are taking to Twitter to share just how unhappy they are:
Actually, the whole "unblocking Kim" story kind of overshadowed the fact that it was Khloé's big day.
Lord, give me strength.
Just to play devil's advocate for one hot second, Thompson was at Khloé's birthday party and it's probably safe to assume he wished her a happy birthday in person. Not everyone is as affectionate on social media as a born-and-bred Kardashian, so just because Thompson didn't post doesn't mean he doesn't care. OK, that's all I got. Especially since he posted this gushy message for Khloé's birthday last year:
A lot can change in a year, huh?
Despite hearing actual crickets from Tristan Thompson's side of the interwebz, Khloé appeared to be unbothered. She thanked everyone who took to social media to wish her a happy birthday (cough cough, not you, Tristan, cough cough). She wrote,
Thank you guys so much for these awesome birthday tweets! I am so blessed! I'm already so overwhelmed with love and my birthday has just started. Baby true is sleeping so I have to get back to sleep myself. I love you all! For real... Thank you
Classic Khloé, being the epitome of class and an overall stand-up citizen. We love you, KoKo, and can only hope that Tristan made up for his blunder by giving you everything you wanted for your birthday.