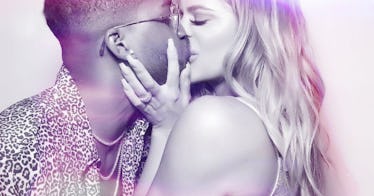 Khloé K Is Rocking A Huge Diamond Ring On THAT Finger & I'm Shook AF
Instagram/KhloeKardashian
Move over, Ariana Grande. It's time we start to speculate about another celeb's possible engagement. We all know by now that Khloé Kardashian has had her share of ups and downs this past year. Finding love with Tristan Thompson, getting pregnant, finding out some awful news about Thompson's reported infidelity, then overcoming all of the drama that followed — the girl has lived 100 lives in a matter of months. But it looks like she's moving forward into a happier life with Thompson by her side, and with something very, very sparkly on her left ring finger. TMZ obtained photos of Kardashian subtly rocking a massive rock on her ring finger, sparking many to wonder, "Did Tristan Thompson propose to Khloé Kardashian?" Elite Daily reached out to Kardashian's team for comment on the reports, but did not hear back by the time of publication. Technically, it could just be a gorgeous cocktail ring worn randomly on her ring finger... or, it could be that the pair is engaged and keeping things as low-key as possible.
Here's what happened: The Daily Mail tweeted that Kardashian and Thompson went out to dinner at BOA Steakhouse with friends, but apparently looked less-than-pleased to be there. The outlet took to Twitter and wrote that Kardashian "looked tired and distracted throughout the meal, which she spent seemingly ignored by her cheating beau and their dining companions." But the outlet did note that Kardashian was wearing an additional accessory on her hand, stating that "Even an enormous new diamond, sparkling on her ring finger, did nothing to improve her mood."
But upon seeing The Daily Mail's tweet, Kardashian put the haters in their place, taking to Twitter to respond, writing,
You make up anything!! I actually had a great night. It was a large birthday dinner for friends and as a new mom IM TIRED AF!! Being out past 10pm is not where I'll have the most energy these days.
But our girl KoKo seemingly overlooked that little detail about the ring on her left finger. Was that an accident? Or is she trying to hide some really awesome news about an engagement to Tristan Thompson?
A source who reportedly saw the pair at the restaurant told People magazine that "Khloé looked great," adding that "She wore a huge, new ring."
While Kardashian did post to Instagram recently, looking like a damn dream in a black top and camo-printed jacket, she conveniently hid her left ring finger. She captioned the photo, "True's Mom," which is actually cute AF:
But notice that we are just barely missing her left-hand fingers, which, once again, could just be a consequence of her cute AF pose... or it can mean that our girl is trying to hide some serious bling.
This could be some really positive and uplifting news for Khloé, which she totally deserves. After Thompson's reported cheating scandal rocked our worlds back on April 10, when video footage of Thompson seemingly kissing other women was released by both The Daily Mail and TMZ, it hasn't been the easiest of roads for Kardashian. Elite Daily reached out to Kardashian and Thompson's teams at the time for comment on the reports, but did not receive word back. Perhaps Thompson is showing his full commitment to Kardashian, which honestly, she deserves more than anything.
And, while we all want what's best for Khloé, some fans are urging Kardashian to think twice about staying with Thomspon. A Twitter user by the name of @ChicB*tchxo, or Queen Persia, wrote about how she was saddened by Kardashian's choice to stay with True's father, and called Kardashian a hypocrite for preaching "about women knowing their self worth and when to walk away" while seemingly doing the opposite, and not-so-subtly suggested Thompson's capabilities of cheating again:
But Khloé Kardashians clapback was as classy as it was epic, noting how difficult it is "to even coexist" with Thompson, and that their relationship has to take "enormous rebuilding" to get to a space where they will ultimately be OK:
The Twitter user responded, noting that Kardashian's fans "are protective" of her and only want what's best:
To which Kardashian responded once more, writing, "I love you for that and girl trust me don't I understand!!! I appreciate you":
Can we all just realize how much of a national treasure Khloé is, and we must protect her at all costs? In the end, her happiness is all that matters, and if she can come to terms with what's happened in the past with Tristan Thompson, then we should, too.