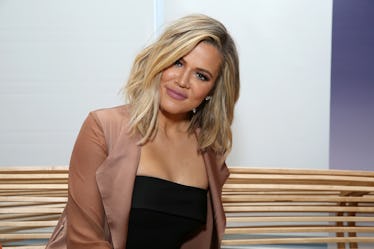 Khloé K Clapped Back At A Troll Who Criticized Her For Staying With Tristan & Yas
Cindy Ord/Getty Images Entertainment/Getty Images
Khloé Kardashian is the undisputed queen of bright blonde highlights, ripped denim, and epic clapbacks. Her decision to reconcile with Tristan Thompson following his cheating allegations that surfaced back in April has subjected her to massive amounts of criticism — however, there was one particular comment, shared by a Twitter user on June 25, that apparently really struck a chord in the 33-year-old. It's not as brutal as you're probably thinking, though. In fact, Khloé Kardashian's comment about staying with Tristan Thompson is pretty relaxed — and definitely classy.
It's pretty safe to say that no one has really been here for Kardashian's beau since his explosive cheating scandal, which hit the news on April 10 — just two days before she gave birth to their daughter, True. In videos shared by both The Daily Mail and TMZ, the Cleveland Cavaliers baller was allegedly shown making out with multiple women throughout his relationship with the Good American designer. Elite Daily reached out to Kardashian and Thompson's teams at the time for comment on the reports, but did not receive word back.
Although the two have decided to work past it, the allegations sent shock waves through social media and in the world, with many of Kardashian's fans urging her to break things off with Thompson. Now, a Twitter user by the name of @ChicB*tchxo, or Queen Persia, is chiming in on the calls, and Kardashian has apparently had enough of it.
In the first tweet, Queen Persia said she was disappointed by the reality star's decision to stay with Thompson, calling Kardashian a hypocrite for preaching "about women knowing their self worth and when to walk away" while doing the opposite. She went on to call Thompson "immature" in another tweet, suggesting he was only remorseful for getting caught and would cheat on Kardashian again in the future.
Sheesh. Talk about laying it on thick.
Kardashian, however, shared a classy clapback, telling Queen Persia she was more ignorant of the situation than she realized. She also admitted that even coexisting with Thompson following the cheating scandal has taken "enormous" amounts of energy and strength.
Kardashian also expressed her love and appreciation for Queen Persia after she admitted she wasn't trying to judge her, but was only trying to protect her from "some lame breaking [her] heart again."
Aww! Seeing Kardashian keeping things cordial and sweet like this has me feeling like a proud parent, especially because we all know how brutal and ruthless she can be in her clapbacks. For instance, on May 27, she made it clear on Twitter that she doesn't really wanna hear any unsolicited advice when it comes to her relationship. In the first tweet, she talked about how people spend too much time in other people's business than their own. She wrote:
People spend too much time finding other people to blame, too much energy finding excuses for not being what they are capable of being. People these days are focused so much on someone else's life instead of their own.
In the second tweet, she urged people to live by their own advice and "focus on their own world."
She tweeted:
They love to give advice but are not living the advice that they are offering. Most of the ones giving advice are in no place to give anything at all. Focus on your own world. I'm sure there's cracks there that need your attention. We all got em
AKA:
Besides, the same month a source told People that Kardashian seemed "happier and happier every day" and that she's even still looking forward to marrying Thompson, so you'd think these Twitter trolls would get a clue and move on like she's trying to do.
She appears to be making real progress in her relationship, but these kinds of reminders and tweets surely don't help. So let's all just agree to back off of this whole thing and let her live. Who's with me?