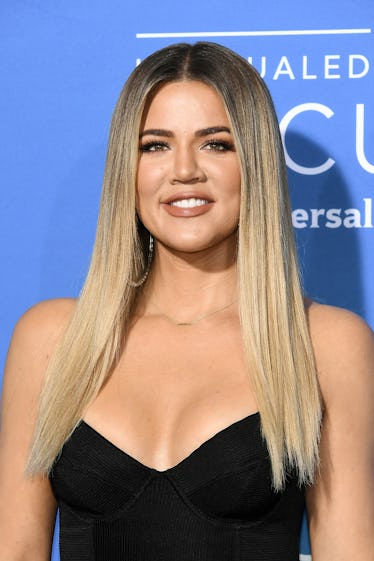 Khloé Kardashian Went To Tristan Thompson's Cavaliers Game & She Honestly Looked So Happy
Dia Dipasupil/Getty Images Entertainment/Getty Images
If you've been following the latest Khloé Kardashian news at all, then you know she's had a tumultuous few months. From giving birth to her daughter True Thompson to navigating the strange world of cheating rumors, Kardashian has definitely been through the wringer. But she's not letting any of that stop her from living her life and enjoying every last second of it. And what's better proof of that than a photo of Khloé Kardashian at Tristan Thompson's game?
The 33-year-old reality star recently attended a Cleveland Cavaliers game where her boyfriend (and father of her daughter) Tristan Thompson was playing. Kardashian watched the game, posed for photos with fans, and just had a great time all around.
Despite all the drama surrounding her relationship, Kardashian seemed to be in great spirits. She was absolutely glowing and seemed very happy to be among all those NBA fans. So, that's lovely to see.
Just to recap the Kardashian-Thompson drama: Back in April 2018, Thompson was implicated in cheating rumors scandal that definitely rocked Kardashian's boat. The Daily Mail was the very first to report about the scandal. In the report, The Daily Mail included a video claiming to show Tristan getting cozy with another woman. Elite Daily reached out to Kardashian and Thompson's reps for comment on those reports, but has not heard back at the time of publication.
Unfortunately for Kardashian, the upsetting news went public just days shy of her giving birth to their daughter, True, and the media was swirling with rumors about the stability of her relationship with Thompson.
Since the news broke, Kardashian and Thompson have been the subject of plenty of gossip. And some insider sources have said that their relationship has changed for good.
For instance, a source told People in May 2018 that things between Kardashian and Thompson were different than they once were. Prior to the cheating scandal, the relationship between them was steady, but now, there are reportedly ups and downs:
She has good days and bad days with Tristan. They had a very calm relationship before those videos and pictures were released. Now their relationship has changed.
Although Kardashian and Thompson have been making significant efforts to mend the relationship, that reportedly isn't enough to fully restore the trusting and loving relationship that once was, according to that source from People:
Of course it's hard for Khloé to trust Tristan when he goes out of town for games. She knows her family is right when they warned her to not trust him. But she still wants to keep trying to have a great relationship with Tristan again.
But now that these photos of Kardashian attending the Cavaliers game have surfaced, it seems as though the relationship has taken a turn for the better. Kardashian has even prolonged her stay in Cleveland to reportedly make sure her relationship is on solid terms.
Back in May, a source told ET that Kardashian was staying put for a while:
Khloé doesn't have any immediate plans to head back to L.A. As of now, she's planning on being in Cleveland for another month.
Obviously, that worked out for Kardashian. Now that her extra month in Cleveland is nearing its end, maybe she's trying to spend as much time as possible with Thompson before she heads back to California to be with her mom and siblings.
Whatever the case, Kardashian is clearly making the choices she thinks are best for her. And I support that 100 percent. As long as Kardashian and her baby are happy and healthy, then let her do as she pleases.