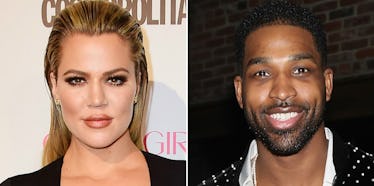 Khloé K Reportedly Still Wants To Marry Tristan Thompson Despite His Cheating Scandal
Frazer Harrison/Cassidy Sparrow/Getty Images
I feel like it's been ages since I talked about the whole Khloé Kardashian and Tristan Thompson situation, but it's really only been, like, one week. Life comes at you fast. According to reports, Khloé Kardashian still wants to marry Tristan Thompson, but this new tidbit of information is... confusing, considering the fact that earlier in their relationship (long before Thompson's reported cheating came to light), Kardashian made it clear that she and Thompson were in no rush to get married. She had done the marriage thing before, she said, and she rushed into that marriage, so she wanted to take her time with Thompson. Given all of that, the claims that an anonymous source made to People are kind of confusing, seeing as marriage hasn't seemed to be on the top of Kardashian's priorities. Elite Daily reached out to Kardashian's team for comment on this report, but did not hear back by the time of publication.
A source told People that Kardashian is "doing great" and "seems happier and happier every day." They added that she and Thompson's relationship has improved, though Kardashian does keep him "on a short leash." They also noted that Thompson has "been very apologetic" and they're apparently both committed to making their family work. That's reportedly the main reason Kardashian has stayed in Cleveland ever since giving birth to True on April 12. It was previously reported that she planned on flying back to L.A. to be with her mother and sisters with baby True the second the baby was old enough, but she has apparently shifted gears and is planning on staying in Cleveland indefinitely.
The source also told People that Kardashian wants to marry Thompson, though when that would happen is not clear. They said, "Khloé wants to get married eventually, but there are no serious wedding talks yet." They continued,
She does talk about a future with Tristan, though. She believes they can figure things out and have a happy life together. True is doing great, too. And Kris [Jenner] is so proud of all her grandkids. She constantly shows pictures of all the babies.
This report came on May 22, and later that night Kardashian tweeted a cryptic tweet about "the stories people create."
The tweet said, "I can't believe some of the stories people create. Where do they come from and who are these 'sources'? Hummmm." This tweet could be referencing any of the countless articles written about the Kardashian family on any given day, but it's not hard to see how some fans could take this tweet as a response to the claims that she wants to marry Thompson.
But most people who responded to the tweet assumed she was referencing Thompson's reported cheating. They thought she was trying to imply that the rumors of his infidelity are false.
Elite Daily reached out to Kardashian and Thompson's teams regarding those cheating reports but did not hear back by the time of publication.
Others seem to think the tweet was referencing the stories "anonymous sources" provide to outlets about the family on a daily basis.
What we can take from this new report is that Kardashian's desire to marry Thompson eventually hasn't changed in light of the reported cheating scandal. In an interview with Ellen DeGeneres back in January, Kardashian said she wants to marry Thompson, but it's not happening anytime soon. "I hope so," she said, adding, "we're not in any rush for that. As you know I've rushed quite a few things before." This was a reference to the fact that she married Lamar Odom one month after meeting him in 2009. She continued, "Right now, I'm so loving the place I'm in and very happy with how things are going. We talk about it for sure. What's meant to be will be." Kardashian has yet to publicly address the cheating reports, but that's likely because the next season of Keeping Up With The Kardashians is documenting the entire thing.