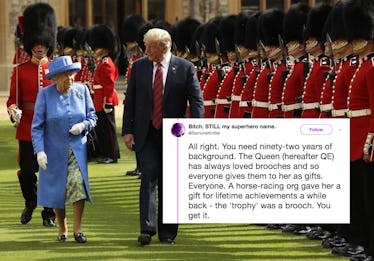 People Think The Brooches Queen Elizabeth Wore During Trump's Visit Were The Ultimate Shade
WPA Pool/Getty Images News/Getty Images
Queen Elizabeth II is a lot of things: She's regal, poised, and elegant, for starters. She's also the ultimate matriarch, IMHO. One thing I never considered her to be? Shady. But speculations started circulating that the queen's brooches during Trump's visit to England may have been subtle digs at him, I started to wonder if the queen was, in fact, attempting to throw shade at the president of the United States. Tea alert.
On Friday, July 13, President Trump met with Queen Elizabeth for tea, and while their exchange seemed a little awkward in terms of body language, apparently, the real tea may have had more to do with the queen's ensemble than their interaction itself. Granted, it's all speculation, and nothing specific meaning or ulterior motive has been confirmed, but in the name of an interesting theory, let's run with it.
Besides her official role as, you know, queen of the United Kingdom, Queen Elizabeth has also become quite renown for her fashion statements. She rocks vibrant shades, including lime green and hot pink on the reg — need ye be reminded of her fierce neon royal wedding day lewk? Her colorful coats and sets are as iconically hers as Hillary Clinton's signature pantsuits, but what you might have never noticed is that the queen often uses her brooches to make statements as well, and said statements can go far beyond matters of style.
According to Twitter user @SamuraiKnitter, who helped decode the meaning of the queen's brooches in relation to Trump, it's a known fact that the queen loves a good brooch, and she's often gifted them by others.
So now, for the interesting parts. Queen Elizabeth didn't actually meet Trump until the second day of his visit, but on day one, she decided to don a brooch gifted to her by Barack and Michelle Obama. Apparently, the queen will always wear a gifted brooch when meeting with the giver of said gift, but this time, according to @SamuraiKnitter, she reportedly wore the former president's gift while the new president was in town. Coincidence? I think not.
This is a queen we're talking about here: She has hundreds of brooches, and she decided to give this Obama-given brooch a whirl just one day before meeting with Trump? Of course, it is an American brooch, Trump hasn't gifted her one, and perhaps she just liked it, but still...
When it came time to meet Trump and Melania, the queen switched up her look and donned a periwinkle blue paisley coat with a floral dress underneath. And adorning the coat? A paisley-shaped brooch, which her mother famously wore to her father's funeral. Yup. It's a funeral brooch.
Is it safe to assume this means she equated the meeting to something like a funeral? Was she dreading it that much? Again, it's all speculation, but if so, I can't help but marvel at the shade of it all.
And the final straw (or brooch) of it all? On the final day of the visit, instead of wearing a brooch to acknowledge someone Trump beefed with, or a day she dreaded, she opted for the Sapphire Jubilee Brooch, gifted to her by Canada. Canada.
If you don't know, Trump isn't exactly the biggest maple syrup slurping, hockey playing, Canada lover. That's one, two, three potential shades, you're out! But TBH, I can totally see why she wanted to rock it. Just look at this thing:
If you're examining her expression, not her outfits, Queen Elizabeth was, in fact, smiling and laughing during her meeting with Trump — so perhaps we're overthinking the brooch drama? Or maybe she just has a great poker face?
Maybe the funeral brooch is simply viewed as one of a myriad of special family heirlooms? Maybe she was just really feeling her paisley fantasy and wanted to go all out? Halfway through justifying this all in my head, I came across another tweet in the chain that really sealed the deal for me.
So all in all, was there really no tea, no shade? Tea has been confirmed — that's what they met for, after all — and while the shade is purely rumor at this point, perhaps Queen Elizabeth did have a statement or two in mind when picking out her outfits that week.